28 Jul

Banned in KL, Astro Boy Rides the Wave to Sky Kingdom on A Grasshopper


Alongside its unusual title, this small book packs a big punch! Lim Sheau Yun is one of its authors, and together with fellow writers Ong Kar Jin and Simon Soon, they wanted to depict Malaysia in 15 Postcards; which is its alternative name. The Bahasa Malaysia translation is by Nadia Nasaruddin and Amanda Gayle designed it all. The book is produced by the Malaysia Design Archive (MDA), an organization founded in 2008 to document and preserve the development of graphic design in Malaysia. It is also an education resource for anyone interested in Malaysia's design past. Sheau sums up the MDA as, "not just an archive space for visual history or a pedagogical resource, but we put the spotlight on what falls through the cracks of our national historical collection – we want to showcase an independent history and to centre marginalized voices. Producing our book in 2020 on Malaysia seen through the 15 carefully selected postcards is a case in point."
A Penang girl "historically", Sheau has lived in Kuala Lumpur since returning from her studies at Yale, USA where she read architecture and history. Sheau says that architecture, aside from shaping thinking about form and history, also anchored her to be both creative and analytical at the same time. It was her Yale Fellowship post-graduation that landed Sheau at the MDA where she led on a piece of research for a book project, and where she has subsequently helped them to successfully obtain long-term funding from the Foundation of Arts Initiatives, a private foundation that supports the promotion of contemporary visual arts and culture.
What is it all about?
Banned in KL, Astro Boy Rides the Wave to Sky Kingdom on A Grasshopper (I like this mouthful of a name much better!) is a book featuring 15 decades of Malaysian history with a carefully chosen image to represent each period. For instance, the 1940s is represented by a Japanese Lottery (from the collection of Nazri from nazribanknotes.blogspot.com). Called the Konan Saiken, it was one of the main money raising schemes to support the war effort during the Japanese occupation of then, Malaya. The Astro Boy ice cream wrapper (donated by Mr Goh Ewe Huat, former ice-cream factory owner), representing the 1980s is symbolic of a time when then Prime Minister, Mahathir Mohamad urged Malaysians to "Look East", towards the rising Japanese economy and to embrace Asian values. The 2000s is represented by cult leader Ayah Pin from Terengannu, in the east coast of Malaysia who founded a banned religious sect, "Sky Kingdom", who worshipped a weird assortment of structures like a giant teapot, vase and umbrella, claiming to be the King of the Sky. 2020s has a notso- subtle yellow line across it, depicting a period cancelled out by the global pandemic, bringing all our lives to a virtual standstill.
The bygone era art in the book is not saccharin-like nostalgia with colonial buildings or hawker markets. The 15 photos and accompanying texts are snapshots of the country's history, deliberately presented to be thought-provoking, one which is not orderly but peppered with stories of colonization and power struggles throughout. Banned in KL, Astro Boy Rides the Wave to Sky Kingdom on A Grasshopper makes no claim to be an authority on the nation's history but Sheau asserts that it provides the reader with an alternative and evocative vision. The title, incidentally, is taken from a collage of the different postcards in the book so that the whole ethos of the book is captured up-front in its name.
The book is intentionally bi-lingual to reach a wider audience. Sheau is spot-on when she says that we have a tendency to tell stories in one language (usually English) which excludes other language groups and gets in the way of promoting social inclusion. Best of all, each image in the book has a perforated edge so that it can be torn out as a postcard. In our increasingly digital world, the ritual of writing a postcard to send by snail mail is in itself reminiscent of times gone by!
What's next?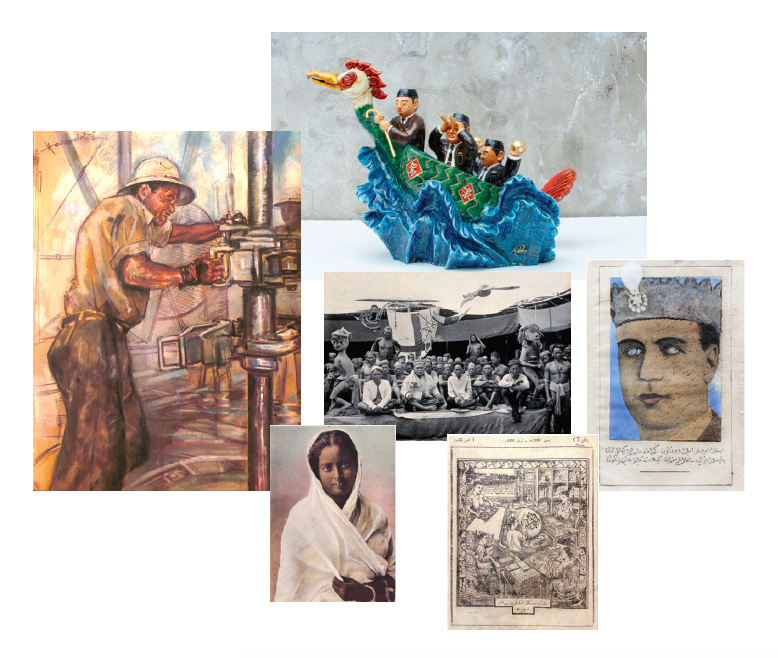 The MDA is planning a host of other events and publications towards the end of 2021 and in the year ahead. We can look forward to a book on the postindependence (1957 to 1969 ) history of food as seen through labour, e.g. the labour of food hawkers; an exhibition and book on the history of Malacca in the seas (looking beyond pirates and trade), and an online exhibition on Malaysia's Wawasan 2020 (Vision 2020).
Banned in KL, Astro Boy Rides the Wave to Sky Kingdom on A Grasshopper is playful and edgy at the same time, inviting you to make your own connections through the postcards, and hopefully also to spark discourse about it. Over to you!
Banned in KL, Astro Boy Rides the Wave to Sky Kingdom on A Grasshopper is available on Shopee, or on the MDA website https://cl0ud.onl/