21 Oct

Cashing in on e-wallets

The Coronavirus pandemic has changed everyday life for many of us and this includes our daily business transactions whether it is buying a cup of coffee or doing our grocery shopping. The e-wallet has become a way of life because where people might have in the past questioned how safe e-wallets are from fraud, now many are questioning how safe cash is from virus transmission! Therefore, not surprisingly, the current pandemic has driven momentum towards the digital economy worldwide. This is one more thing to chalk up to the new normal!
GrabPay, which started operating in January 2016, is one of Malaysia's fastest growing mobile wallet platform. CiTi-ZEN is delighted and honoured to hear more about this growing business from Head of GrabPay, Malaysia, Priyanka Madan. Here are her responses to our questions.
What is GrabPay and what are its benefits? How and why did Grab make the transition to GrabPay?
As a homegrown tech enabler, we introduced GrabPay to provide Malaysian consumers with a safe, convenient and seamless digital payment experience, allowing them to pay for services on the Grab app and in-stores (payments to merchants). Consumers can also earn GrabRewards, making it more rewarding for them to adopt digital payments with GrabPay. Additionally, we also want to help cash-based merchants to embrace the digital economy, and through GrabPay, merchants can increase productivity, easily receive payments and track transactions, as well as save on the additional costs of managing cash.
Since the introduction of GrabPay, we are continuously enhancing our e-wallet system and have introduced more features and safety measures to make it even more user-friendly and secure including:
• Auto Top-Up – automatic topup when your GrabPay Credit balance is low.
• Pay-with-Points – makes the process of adopting digital payments so much more seamless and hassle-free.
• Wider Acceptance by popular everyday household brands – Tesco, Watsons, Guardians, 99 Speedmart, Petron
• GrabPay Price – Partnership with key merchants to provide exclusive discounts to GrabPay users
• Online acceptance – Zalora, Hermo, Fashionvalet
• BillPay – Water bills (e.g.: Air Selangor, Air Perak, etc), Astro, Mobile networks (Celcom, RedOne, Umobile), Internet plan (Yes), Sabah Electricity and Sarawak Energy
Apart from these initiatives, we have also recently introduced a sleeker app interface as well as the option to pay in-store with GrabRewards points.
In the near future, we will also be introducing more safety features and enhancements to give users even more reason to adopt digital payments. This will include helping users manage their spending, providing real-time information on the latest deals near them, anywhere in Malaysia with an inapp merchant discovery function, and enabling them to use their points to also pay for their online shopping.
How does GrabPay set itself apart from other e-wallets?
In our ongoing efforts to drive digital payment adoption, we are constantly innovating and exploring effective strategic collaborations with like-minded partners and the Government to drive digital payment usage. We are also continuously working to provide users with the convenience and access to our robust ecosystem and services across our platform, as well as our merchant partners to serve the daily needs of Malaysians. This requires a balanced "push and pull" approach that will be mutually beneficial to both our users and our partners on our ecosystem that includes:
Helping traditional business embrace the digital economy
and increase their visibility on the platform through several
initiatives such as:
• Partnering with our Government to bring traditional businesses and micro-SMEs to the
digital economy through the Shop Malaysia Online and ePENJANA campaign as part of the PENJANA recovery plan. This includes offering RM 2,000 worth of bonuses for new merchants who sign up on GrabFood and GrabMart.
– Grab Digital Small-Biz programme to help more businesses go and grow offline-to-online.
– Introduced "Grab Loves Local Heroes" to provide RM2.5 million in free advertising space to boost visibility for small and independent businesses on the platform, benefitting over 500 local businesses nationwide.
• Prioritising affordability and savings for users.
– Maybank Grab Mastercard Platinum credit card, Malaysia's first dualfaced credit card that rewards Malaysians for their mobile-first lifestyle with up to 5X GrabRewards points.
– Offering users with savings of up to 50% off of their daily necessities across GrabFood, GrabMart and GrabPay to encourage spending amongst local businesses.
– Lower delivery fees and GrabFood Signature Value Packages to help Malaysians save more while growing the demand for small and independent businesses on GrabFood.
Recognising this shift in consumer acceptance of digital payments, we also expanded our GrabPay merchant-partners to also include household brands from all essential categories such as groceries, pharmacies, food, electronics and hardware across the nation. The list of brands includes a variety of chained outlets such as MyNews, Tesco, Guardian, Watsons, KFC, McDonald's, Mr.D.I.Y and Sen Heng, bringing GrabPay's touchpoints to almost 100K nationwide.
How safe is it to use GrabPay?
Safety and security has always been a top priority at Grab. As such, we have implemented several safety measures including:
• Partnerships with globally recognised top-of-the-line security systems with an award winning fraud detection engine to ensure all GrabPay transactions are safe.
• Strong in-house fraud and security team with custom algorithms and robust processes that prevent and detect fraud. The team is also trained to identify and report cyber risks.
• Six-digit GrabPay Pin to ensure GrabPay credits are safe.
• We are regulated and audited by Bank Negara Malaysia adhering local regulations on data management in every country where we operate across the region.
Is this the end of cash as we know it and GrabPay is here to stay?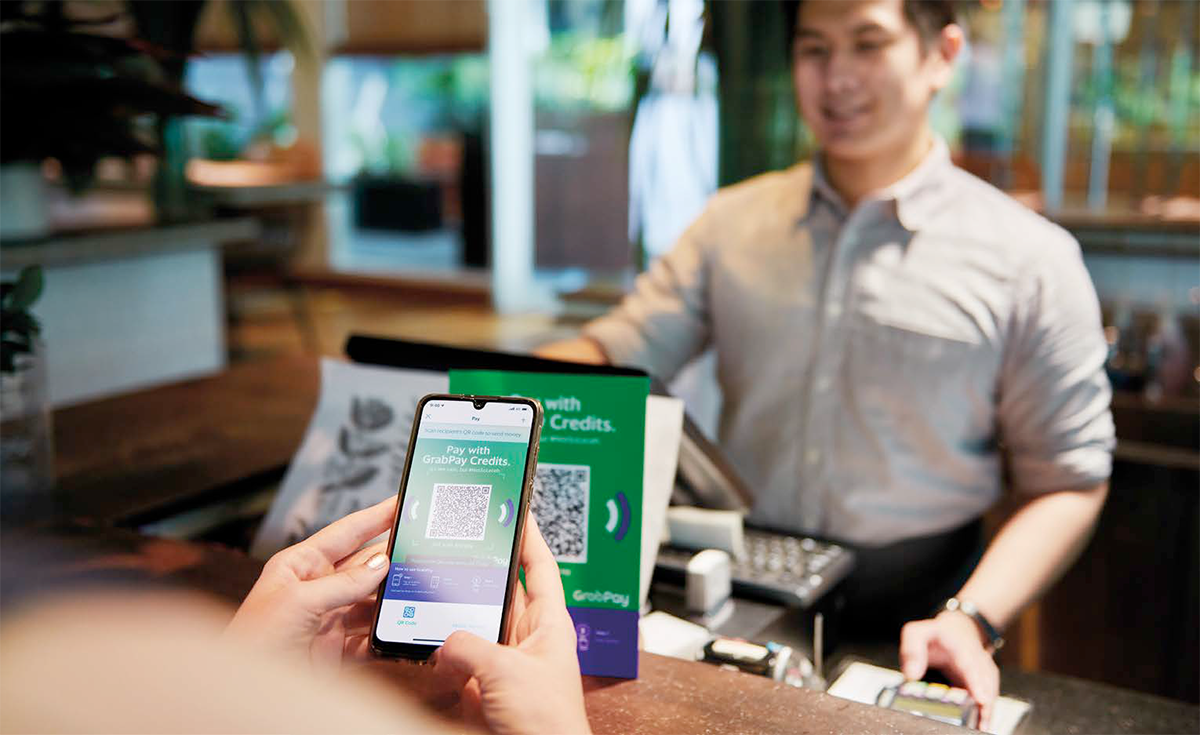 Cash has always been dominant in Malaysian and Southeast Asian economies, in fact recent research reveals that over three quarters of Southeast Asian's six biggest economies including Malaysia are still cash dependent. Malaysia's digital payments adoption has been quickly growing since the various and ongoing government initiatives like e-Tunai and ePENJANA before and after the pandemic.
During the e-Tunai initiative, we saw over 70% of claimants spending on our ecosystem. This digital payment adoption trend has continued to grow with the government's recent ePENJANA initiative where we saw almost double the number of claimants in the first weekend ePENJANA launched compared to the earlier campaign, the eTunai Rakyat programme.
Throughout the pandemic, we have also seen growth in GrabPay transactions in Malaysia and across the region. In fact, a Mastercard study showed that 75% of consumers in the Asia Pacific are inclined to continue using digital payments even after the pandemic is over as more people opt for digital payments to reduce physical contact. At Grab, we also implemented digital payment transactions across all Grab services. As a result, we saw a 1.7 times growth in digital payment transactions and our new user base on GrabPay grew by over 60% compared to before the MCO. Even during the movement control order, over 50% of users were still active GrabPay users.
But in encouraging digital payment usage, it is also imperative for businesses especially traditional MSMEs to also embrace digital economy. In fact, a recent report showed that Southeast Asian consumers and merchants were still considered slow adopters compared to our western counterparts¬, with only 40% digital payment transactions compared to 84% in the US and UK. During the MCO, we saw many small independent merchants like hawkers and neighbourhood shops merchants who lacked the resources and knowledge to transition their business online that needed to quickly adapt to stay afloat.
Hence, we introduced several initiatives to both support and create more income opportunities to these traditional MSMEs lacking digital payment options and tech infrastructures so that they are not left behind. One of the initiatives included a remote GrabPay Link that has enabled them to thrive in the digital economy. As a result of our efforts, we welcomed over 8,000 new merchants during that period to our platform and our merchants' sales grew by 15% from the GrabPay link.
In doing so, we want to continue to nurture financial literacy that is inclusive amongst Malaysians in our effort to help bridge the financial gap. We are also committed to continue our collaboration with the Government and like-minded partners to build an educated and resilient Malaysia powered by a digital economy.