01 Feb

Food for Thought
Food security has reached crisis proportions and UNICEF's 2020 report, "The strategy of food security and nutrition in the world" calculates that 690 million people went hungry in 2019. Although the full impact of lockdowns and other constraint measures brought about by the COVID-19 pandemic is not fully known yet, the report predicts the figure will increase, attributing food waste as a large contributing factor. The Lost Food Project (TLFP) says that Malaysia wastes 3,000 tons of edible, quality food daily with 38% generated from households, creating 5% of greenhouse gases in the country. TLFP's GM, Mohd Syazwan Mokhtar goes on to say that if food waste is a country, it would be the third largest emitter of green house gases in the world behind China and the USA. These eye watering figures not only have a dire impact on the environment but also that while we are throwing out food, people around the world don't have enough to eat. TLFP play a huge part by monthly saving 40-50 tons of edible, quality food destined to be thrown away.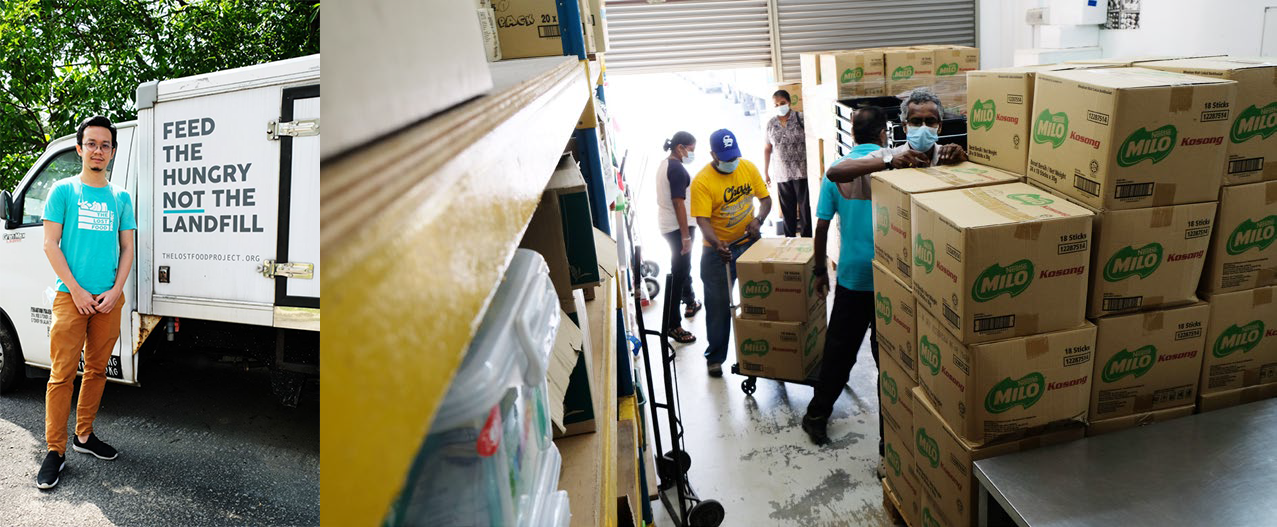 How did it all start?
Founder, Suzanne Mooney started TLFP in 2015. The goal was to rescue "lost food" in Malaysia and to stop as much food as possible going to landfill sites when there were people going hungry in the country. Passionate about food waste, Suzanne Mooney felt compelled to start TLFP after she picked up a box of edible and still good quality bananas destined for the bin at her local supermarket in Kuala Lumpur. Together with a small group of friends, Suzanne started distributing edible and still good quality "lost food" to charities and families, from the back of cars and from the roadsides. Fareshare UK (charity aimed at relieving poverty and reducing food waste) offered valuable guidance and support in the early days. In a short 5 years, TLFP today has 7 fulltime staff, 3 trucks, 2 warehouses (KL and Shah Alam) and 1,000 volunteers on their books. Suzanne Mooney no longer lives in Malaysia but what a legacy!
Establishing Food Security
In November 2020, TLFP supplied almost 70 tons of food to between 10,000 – 15,000 people in the Klang Valley, Kuala Lumpur and Johor. The recipients are typically charities, NGOs, .low income families and Orang Asli communities.
In deciding their beneficiaries (totaling 60 partner charities across Kuala Lumpur and Johor Bahru, thousands of low income families in different communities across the Klang Valley and the rural communities in Mersing, Batu Pahat and Johor Bahru to name a few), TLFP undertakes an audit to ensure not only need, but that the food preparation facilities are clean and safe . They also want to know who is going to eat the food in order to target delivery because for instance, according to Syazwan, "soft foods are favoured by older people and children do not like bitter gourd!"
The COVID-19 pandemic created massive disruptions in the food system and impacted TLFP's operations because they lost a big chunk of their food source (e.g. 4 tons of fresh vegetables lost a week because the "wet markets" closed operations), hospitality businesses closing because of the 2-month lockdown in Malaysia and movement restrictions imposed to curb the spread of the disease. TLFP made a decision to continue operations and to keep their focus on continuing food security for the families and charities who relied on them. They just had to work differently and call on different partners to continue the mission of reducing food waste and alleviating food insecurity at a time of crisis.
"We managed to thrive even during the time of movement restrictions and our volunteers were amazing because they braved an unknown pandemic, especially in the early months with limited information about the virus, to secure food supply to vulnerable people."
Partnership Working

TLFP is a leader in the field of food waste management with businesses across the supply chain truly committed to tackling this important issue with them. Partnership working is at the core of how TLFP does its business. As Syazwan says, "We can't do everything ourselves.
We work with and through local NGOs and individuals already doing good work helping feed their local communities because we are not in the business of duplicating effort " Syazwan is also encouraged that there are more food bank organizations in Malaysia today (although sad they are needed) because this means more people are able to receive food thus reducing the food waste mountain.
So, what kind of food gets wasted? Supermarkets throw away food that has almost reached their sell-by date, products with poor quality labelling (I know it's not food but TLFP received hundreds of shampoo bottles destined for the landfill because the labels would not stick on!) and food that are not aesthetically appealing. Syazwan is appalled that "20% to 30% of food does not even get to the supermarkets because they don't look good and therefore won't sell."
TLFP's food partners are also bakeries, supermarkets, "wet" markets, food distributors, manufacturers and suppliers. Their policy is not to handle cooked food for health and safety reasons but however, if restaurants wish to cook for charities, TLFP will help liaise with the relevant individuals to make it happen.
Most recently, TLFP entered into an agreement with Nandos to(1) collect food donations from their patrons, offering them a 20% discount in return and (2) distribute uncooked chicken nearing their use-by date for immediate consumption.
New Challenges, New Opportunities
The Government accepts that the food bank programme requires support and established the Yayasan Food Bank Malaysia in 2019 as an NGO to lead on managing the food bank initiative around the country and to reduce food waste. TLFP welcomes this initiative and also sees them as they want to inform about safely consuming food after these dates and also when it is not safe to do so.
Malaysians waste 3,000 tonnes of food daily which takes up 55% of our landfill capacity. This figure alone is estimated to provide 3 meals a day for up to 2.2 million people. 15% of food waste emissions come from losses in the supply chain (thrown away for cosmetic reasons, spoilage, poor handling). 9% of food waste emissions come from food thrown away by retailers or consumers themselves.
Syazwan appreciates TLFP has a powerful megaphone through their good reputation as food redistributors and through their volunteers whom he credits for their success. "TLFP is volunteer driven and our 250 active volunteers work tirelessly for the cause – driving, food sorting and delivering every day. Even when they leave us, they take the knowledge of combating food waste with them wherever they are. We owe our volunteers a huge debt of gratitude because they are the main reason why we can survive."
TLFP – 016.322.5041
www.thelostfoodproject.org