01 Jul

Making a Difference to Refugee Health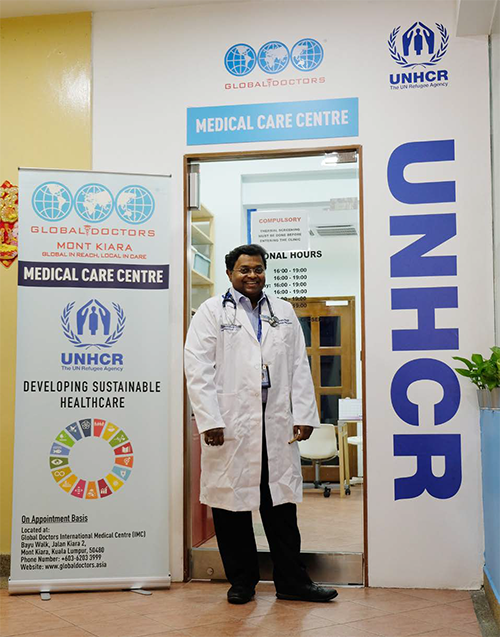 It is not often one can say they enjoyed a trip to the doctors but last week I certainly did! Meeting Dr. Navindra Nageswaran (Managing and Medical Director of Global Doctors Malaysia), Dato' Dr. Sharifah (Executive Chairman of Global Doctors Malaysia) and Ms Somila Khanna (Project Coordinator) to learn more about their refugee health service in Bayu Walk, Mont' Kiara was an inspiration. Their enthusiasm for the recently established service aimed at improving the health of refugees was (excuse the pun) infectious.
Health Partnership
Global Doctors Malaysia and the United Nations High Commission for Refugees (UNHCR) have collaborated to set up the Global Doctors Medical Care Centre to provide complimentary consultations and diagnostic services (e.g. CT Scans, X-Rays, Mammograms) for all refugees registered with the UNHCR. Pharmaceutical costs, however, must be borne by the refugee patients; and they can purchase their medication in-house or elsewhere at other pharmacies.
Global Doctors Medical Centre
The health of refugees is a key component of the UNHCR's work programme and this latest partnership with Global Doctors is recognition by both organizations that access to healthcare facilities for refugees is crucial in making a difference to their lives and in many cases, life outcomes. In Malaysia, refugees have access to government and private healthcare but they are often put off by financial constraints, language barriers and the fear of moving in public in order to get to those services. According to UNHCR figures, as at the end of April 2020, there are almost 180,000 registered refugees in Malaysia, 85% being from Myanmar and the rest from other countries like Syria, Somalia, Afghanistan, Yemen, Palestine, Pakistan and Sri Lanka. (Source: UNHCR Malaysia website)
The Global Doctors' dedicated service for UNHCR registered refugees is not just aimed at providing them with access to diagnostic services where health conditions can be picked up and treated (or at least have a treatment plan), before "the acute gets to be chronic", says Dr. Nageswaran. His experience with treating refugees is that typically these patients are seen, prescribed medication and they move on. He is more interested in sustaining long-term health, providing more holistic care and preventing health issues, like Diabetes or Asthma, from worsening. Dato' Dr. Sharifah adds that when it comes to our health, prevention is critical so that health issues can be managed better if identified early enough. If refugee patients require surgery, intensive care or hospitalization, they would be referred to the appropriate medical facilities. Part of the Global Doctors service for refugees is to also provide complimentary dental health consultations at the adjoining dental clinic but if they require dental procedures, these have to be paid for at a special privileged price.
Since the refugee health service opened its doors in early March, they have seen 90 patients and now that the lockdown has eased in Malaysia, the numbers are anticipated to rise. Referrals to the Global Doctors Medical Centre come from the UNHCR itself and other refugee centres. Appointments are strongly encouraged so that patients can be seen as quickly as possible.
Community Outreach

Since 2003, Global Doctors Malaysia has been well-known for providing multi-disciplinary healthcare around the Mont' Kiara and surrounding areas of Kuala Lumpur. What many people may not be aware of is that community outreach has been woven into their DNA from the outset, walking the walk of its tagline, "Global in Reach. Local in Care". The Medical Centre for refugees is the latest in its portfolio of community programmes, having previously set up initiatives which include:
1. Global Doctors' "Kasih" Programme which provides diagnostic services such as X-Rays, CT Scans, MRIs and Mammograms at a subsidized rate (half of the original price) for foreign workers.
2. Global Doctors Hospital has adopted a home for the elderly, Asrama Cahaya Rumah Wanita Kurang Upaya, taking care of 37 people with special needs and providing free medical assistance for the residents.
3. Clinical practice at the Top Glove factory (leading Malaysian manufacturer of rubber gloves) for their workers.
4. Health outreach facility to provide health checks for refugees staying at the K'Cho Community Centre in downtown KL. This initiative is part of the recent agreement signed with the UNHCR.
5. Community health education – e.g. prevention of Covid-19 talks and community CPR drills in Mont' Kiara.
All these activities come from a sincere desire to make a difference by bringing healthcare into the community.
What next?
Thus, Global Doctors Malaysia is already setting its sights on other initiatives such as starting a mobile health clinic, bringing healthcare directly to patients, living by their philosophy of providing access to health for everyone, to the highest attainable standard. As with their UNHCR partnership, Global Doctors always welcomes participation from like-minded individuals or organizations to work together to further assist refugees and to make a difference.
Global Doctors Medical Centre
Bayu Walk
Jalan Kiara 2
Mont' Kiara 50480
Kuala Lumpur
Please call +603 2303 9906 to make an appointment to see a doctor.