03 May

Mobilus Brings In the Automated Rapid Transit (ART) System to Revolutionize Urban Transportation in Malaysia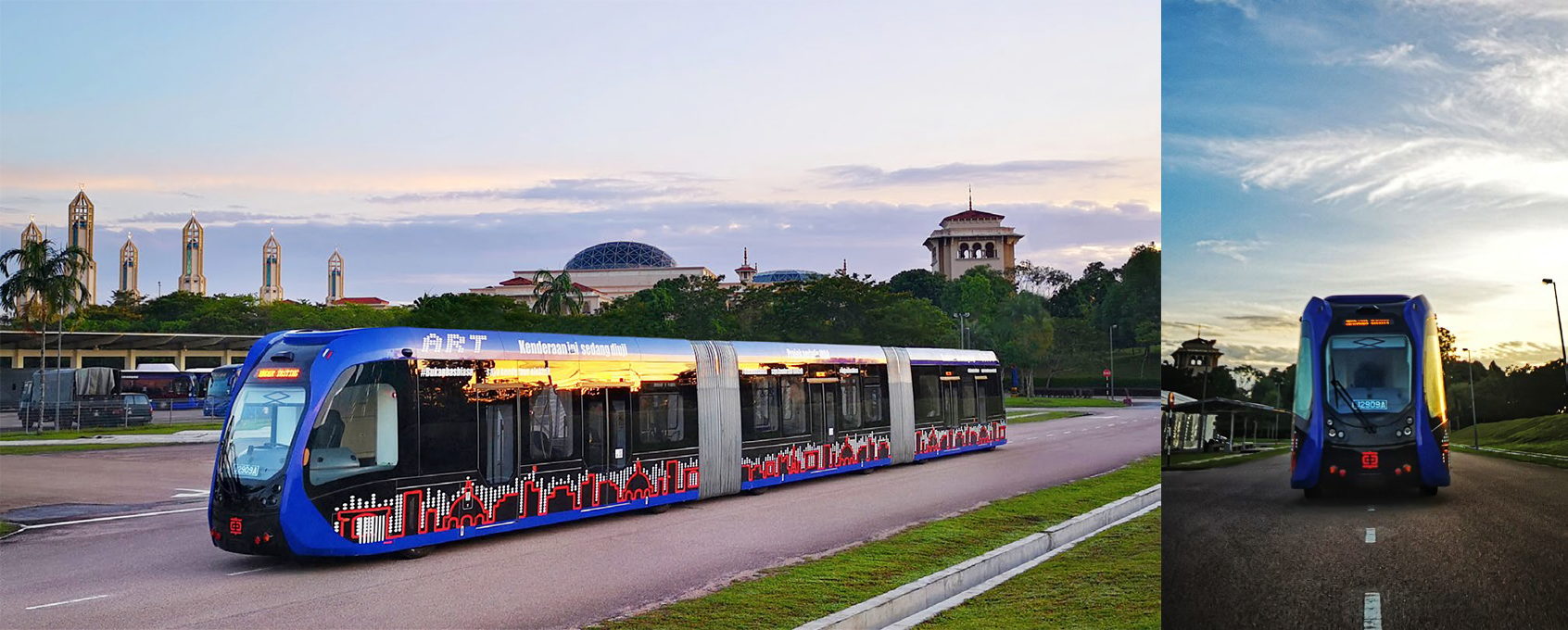 It's tempting to describe the Automated Rapid Transit (ART) system as a bus or a train, or sometimes to cover all bases, people refer to it as a tram. Unlike any existing public transportation vehicle, the ART, with its distinctive feature is a hybrid between an electric bus and a trackless tram. It was developed and launched in 2017 by CRRC, the world's largest manufacturer of rolling stock and rail related products and systems. The ART system is a multi-carriage, electric powered urban transport system equipped with sensors that can read the dimensions of a road and does not have to follow conventional rail tracks.
This transport revolution arrived onto Malaysian soil in January 2021 and was launched in Iskandar, Johor on April 8th, 2021 officiated by Johor Chief Minister, YAB Datuk Dr Hasni Mohammad. Mobilus Sdn Bhd, a joint venture company set up by Ireka Corporation Berhad with CRRC Urban Traffic Co. Ltd to pursue urban transportation business opportunities in Malaysia and South East Asia, brought the ART system into Malaysia to transform the country's public transportation system.
Two key individuals, Ramlan bin Zainol Abidin and Noor Rizwan bin Kasmuri, both with a reputation for good work in the transport sector, were brought in by Mobilus to spearhead the ART project. Before saying more about the ART system, here's a short introduction to them both and what led them to their journey (no pun intended) into the world of public transportation.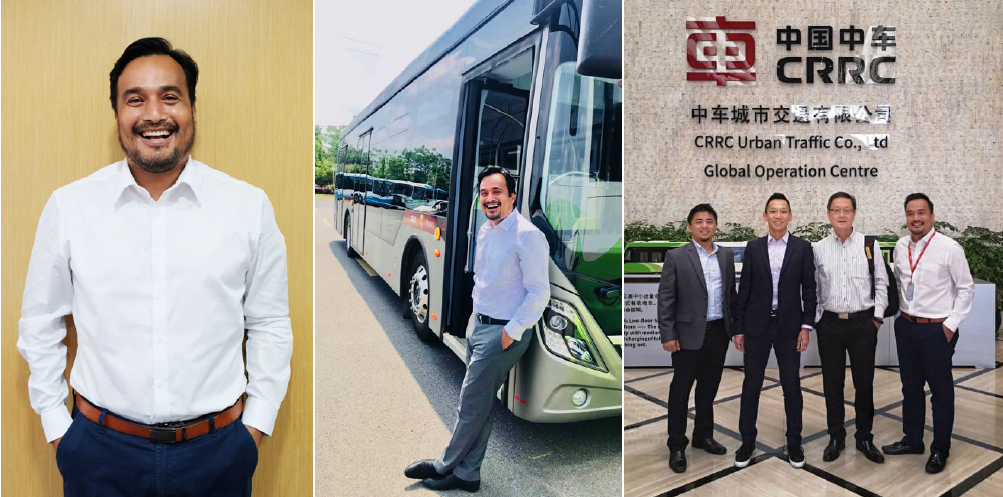 Ramlan bin Zainol Abidin
Ramlan was born in Alor Star, Malaysia, to a single mum who brought up 4 children and worked hard to put them through university. After completing his studies, Ramlan worked in the banking sector from 2004 to 2007, before switching to the automotive industry which he absolutely loves.
"The transportation industry is exciting because the technology, systems, science and engineering are constantly evolving. Cars have evolved from diesel to hydrogen to fuel cells. Electric cars are now passé and talk of flying cars does not raise any eyebrows these days!" Ramlan spent 14 years with the Scomi Group Berhad, a global service provider involved in oil & gas, transport engineering and marine transportation.
Ramlan's major clients during his time at Scomi included the State Government of Melaka working on their Panorama Melaka Bus Expansion project in 2012; communications giant, Maxis where he handled over 300 of their fleet cars; Prasarana; Rapid KL and Rapid Penang; the MRT Feeder Bus; Volvo Bus, Mercedes Benz and also internationally with ADL Bus UK and the Double Decker for Hong Kong. This large and wide ranging business portfolio was where Ramlan acquired valuable knowledge on working with government and statutory bodies; and most important of all, customer satisfaction. It is therefore not surprising that Ramlan was brought into Mobilus 2 years ago as Business Development Director to lead this start-up company with big ambitions.
Noor Rizwan bin Kasmuri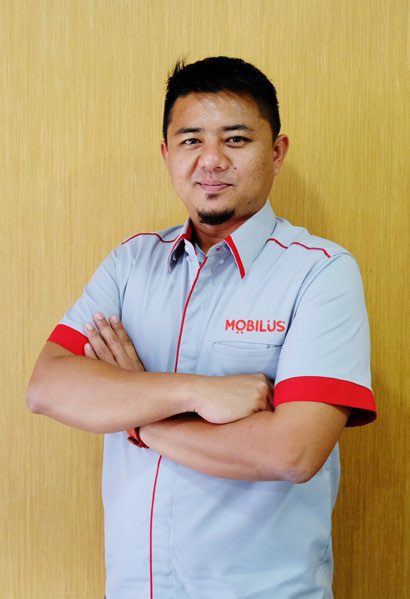 Born in Perak, Malaysia, Rizwan grew up with his family living in many of the country's oil palm plantations where his father was a senior manager. His early schooling was done in the outskirts of Kuala Lumpur, and later he attended boarding school in Langkawi, thereafter studying Mechanical Engineering at the University of Minnesota, USA.
After his studies in 2007, Rizwan returned to Malaysia to work as a trainee manager in a palm oil mill, before receiving an offer to join Scomi Group Berhad where he remained for 10 years, starting off on rolling stock design and later leading on monorail project management in cities like Mumbai and Kuala Lumpur.
Rizwan then moved to work for Honeywell in transportation business development, focusing this time on designing modern station systems. His technical engineering background, commercial and business development expertise provided the perfect ingredients to become Head of Technical in Mobilus where he has been for the last 18 months.
So what can the ART technology do?
Peter Newman, Professor of Sustainability at Australia's Curtin University, who speaks and writes academic papers on green urban transportation, including the ART, is convinced of its "transformative transit technology". His discussion paper prepared for the Intergovernmental 13th Regional Environmentally Sustainable Transport (EST) Forum in Asia, November 2020 describes the ART as, "superior technology for urban transit systems and it stands to be the public transport catalyst that many city planners have been waiting for since the dominance of automobile dependence." So, it was not surprising that the ART made a powerful impact at the green urban transportation launch on April 8th, organised by the Iskandar Regional Development Authority, Johor, amid much public interest, both on the day itself and on social media afterwards.
The ART system is intended to move the focus towards promoting green technology for public transportation in urban environments. ART uses leading edge technology developed by the CRRC Group and it allows for higher passenger capacity. The standard ART system is three carriages that can carry 300 people, but it can also take five carriages and 500 people if needed, at a lower cost of implementation, compared to traditional light-rail systems; and it operates on clean sources of energy such as electricity or hydrogen. The multi-carriages are equipped with sensors that read the virtual tracks on the road, enabling it to automatically navigate its own route, without the need for expensive physical rail tracks or the need to dig up roads to lay rail tracks which is always disruptive for local economies. The ART travels up to 70 kilometres per hour on rubber tyres that run on normal streets thus providing a comfortable ride that has the quality of light rail, without the noise or fuel emission.
Manoeuvrability is the ART's most important feature – it is designed to take sharper turns and as the vehicles are not tied to tracks, they can move around corners and roundabouts smoothly. According to Professor Newman, "It can slide into the station with millimetre accuracy and enable smooth disability access. It passed the ride quality test when I saw kids running up and down while it was going at 70kph – you never see this on a bus due to the sway." He goes on to say, "In three years of trials no impact on road surfaces has been found."
The ART is Up and Running

The ART system was first tested in 2017, and started regular services in 2019, in the South Chinese cities of Zhuzhou and Yibin. The latter city in Sichuan Province has a population of around 4.5 million people. The first of seven lines for Yibin city was officially launched in December 2019 and runs for 17.7 km through the central business district and also connects to Yibin's high-speed railway terminus. It is reported that more than 25,000 daily commuters are using the line in its first year of implementation, and traffic congestion in the city has reduced by 20% since the opening of the ART T1 Line.
The ART system has also been tested for functionality under harsh weather conditions in the cold city of Harbin in north China and in the high heat of Qatar. The Qatari Government is also hoping to use the ART system to transport fans and visitors during the FIFA World Cup 2022 to provide smooth mobility to stadiums, residences and tourist attractions.
Pilot Test in Iskandar Malaysia, Johor
The 3-month pilot testing programme begins now, hosted by the Iskandar Regional Development Authority (IRDA) and aims to showcase green technology vehicles such as the ART system to the public. The ART will be rigorously tested during this period, especially its virtualtracking capability; integration of passenger information systems at stations with real-time position of the ART vehicle to ensure reliability of the service; as well as trialing the Rivex Rikeguard, a revolutionary antimicrobial protective film that neutralises bacteria and viruses upon contact, ensuring that surfaces are safe to touch. Mobilus' partnership with Jasa Sarjana Sdn Bhd to equip high-touch points within the ART with the antimicrobial protective film in the carriages is an important measure to keep passengers safe, and to play their part in curbing the spread of COVID-19.
This pilot will be evaluated by the Malaysia Institute of Transport (MITRANS), an institute of Universiti Teknologi MARA. The independent and technical study will result in a feasibility report to assess its roadworthiness in Malaysia so that Government approval can be sought to fully run the system in the country. Incidentally, for those wishing to experience a ride on the ART, they can register themselves at the IMBRT Information Booth at Anjung Nusajaya in Iskandar Malaysia during the pilot testing period.
Benefits of the ART System

• With a maximum speed of 70 kilometers per hour, the ART urban transport system is more agile, cheap, flexible and potentially cheaper to implement compared to conventional rail systems.
• It will help ease traffic congestion in Malaysian cities.
• ART will run alongside normal traffic on the roads and will be able to go into the deeper pockets of city centres and the suburbs as the last mile connectivity in order to meet the gaps in these areas.
• Because it runs on battery power, the ART is environmentally friendly and does not emit fumes.
• It will be able to attract land development potential around the ART stations and routes, thus unlocking urban regeneration. (Transit Oriented Development)
Next Steps
The introduction of ART is part of Mobilus' long-term strategy of focusing on solutions to improve mobility of people in cities and the suburban areas, where connectivity is often hampered by the urban sprawl. Owing to its cost efficiency and adaptability, the ART system is particularly effective as a back-bone urban transit solution for cities with a population approximating 1 to 5 million people. In larger cities, ART also works well as a secondary urban transit system supporting light-rail or mass transit systems, providing first and last mile connectivity in suburban areas or busy city centres. Thus, the ART is poised to transform the public transportation landscape in Malaysia, when successfully implemented. In other words, it is helping the public to reach to all vital areas easily, safely and reliably. Aside from the ART, Mobilus is also focusing on introducing electric buses solutions, hydrogen fuel-cell powered ART and green-energy logistics solutions to various stakeholders in Malaysia and South East Asia.
Malaysian cities need public transportation that is low cost, cleaner and greener. The ART system is the transformative change required and complements the current public transportation system. Aside from the current pilot programme, current talks are taking place with other States and we hope to see the ART system running in other States in Malaysia in the near future. There is no doubt that Mobilus is a company with big ambitions so we look forward to the next step on this transport adventure.
ART Fact Check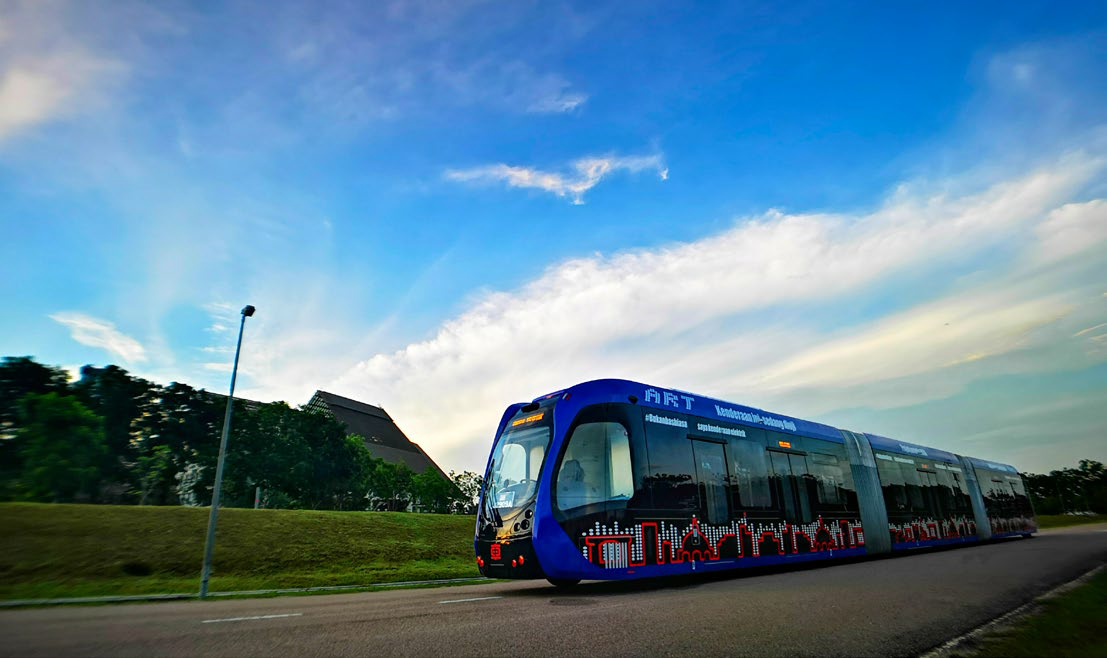 1. Exterior
It is made up of three carriages (extendable to 5 carriages). It is 32m (L) x 2.65m (W) x 3.6m (H).
2. Interior
The interior is comfortable, air conditioned and has the capacity to hold 300 passengers. There are priority seats and spaces for passengers with disabilities. There is also internal video security for peace of mind.
3. Speed
It can travel at 70 km an hour. It is powered by electricity with a vehicle energy storage device with charging at main stations and at the depot. It provides a range of 25km with only 10 minutes of quick charging and 70km with two hours of full charging.
4. Lane departure warning system
This system aids in guiding the ART to keep running on its track and also gives a warning if it drifts away from its lane.
5. Electronic rear view mirrors
These electronic screens give a clear view of the rear and are equipped with auto dimming technology to reduce any glare.
6. Collision warning system
This system helps the driver keep a safe distance from other vehicles on the road and if, at any point, the proximity reduces, a warning sign is given.
7. Route change authorisation
This navigation facility analyses the route on which this ART system is travelling and re-directs for a different route to avoid traffic congestion.