31 Jan

Saluting Real Women of Substance

It is an honour to feature strong, motivated and ambitious Malaysian women in this first issue of 2021. They might see themselves as "ordinary women" but for me, Cindy Ong, Lini Kazim and Michele Low are far from ordinary because these are women who stand up to be counted for their passion and craft. They ask a lot of themselves to achieve success, and in turn, they ask much of the people they coach, mentor and inspire. I want to salute these women and think you will enjoy reading their stories.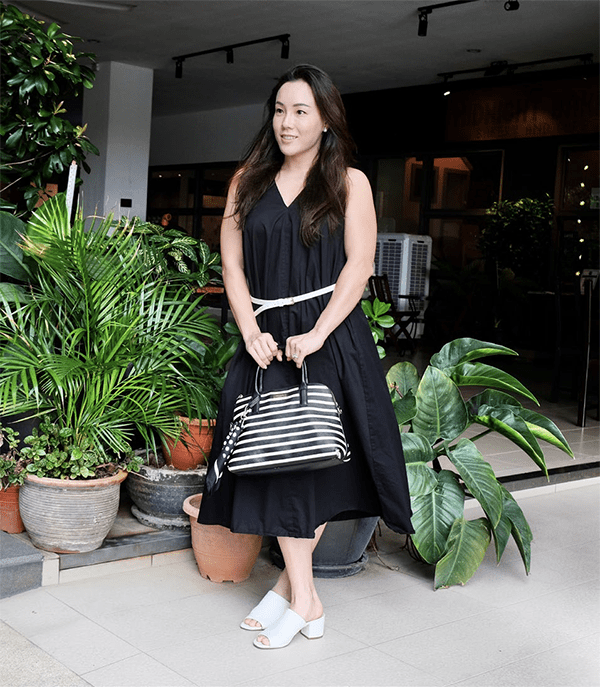 Cindy Ong
For Cindy Ong, swimming is in the genes because not one, but two family members represented Malaysia on the international swimming stage – brother, Allen Ong who went to the 2000 and 2004 Olympics and aunt, Ong Mei Lin was one of the Malaysian women pioneers who represented her country in the 1972 Munich Olympics. These big shoes were more than easily filled by Cindy herself whose own trophy cabinet is bursting at the seams. One of her biggest success came last year when she won five golds and two silvers at the 18th Fina World Aquatics Championships in South Korea in July, 2019 and four months later won eight gold medals at the Singapore Masters Swimming Championships. The wins in South Korea also entered Cindy into the Malaysia Book of Records for the "Most Gold Medals by an Individual Swimmer in a World Masters Championship." Kudos indeed!
Champion in the making
Born in Ipoh, and the youngest of 3 children, swimming competitively started at an early age. In her youth, Cindy broke the national record on numerous occasions, including 5 national records alone at SUKMA 2004! It certainly paid off because Cindy received offers from US colleges without even having applied and settled on Drury University, Missouri, USA where she spent 4 enjoyable years. Cindy never minded the grueling learning and training schedule (swimming practice 11 times a week, dry land strength training and gym work) because she says that the University's mission is to encourage students to flourish which is why Cindy credits her time in the USA as life changing because according to her, "this is the time when doors opened for me." She graduated with a double major in Psychology and Sociology in 2005. Cindy won six gold medals at the 2004 Malaysian Sukma Games (biennial national sports event for young Malaysian athletes) and in the same year qualified for the 2004 Athens Olympics (a childhood dream) but tragically a shoulder injury put a halt to that and in fact, she took a 10 year gap from competitive swimming.
Pressing the reset button
During her break from swimming competitively, Cindy started a family and it was after the second pregnancy that propelled her back onto the winners' podium. In Cindy's own words, "I was so overweight that even my underwear did not fit! I decided that it was time to lose the weight and what better way than to prepare for a big swim competition." The comeback was not as easy as it sounds because even completing 5 or 6 lengths in the pool took its toll. Sheer commitment and determination brought Cindy to the World Masters at Budapest in 2017, six months after having her second child, and was placed fifth. The winning bug had returned. Swimming and competing throughout her third pregnancy got her gold medals at the Malaysian Masters, 2018 – Cindy was then 8 months pregnant!
Inspiring others

Swimming is Cindy's passion and today she spends much of her time coaching others, children especially who might want a career in this sport. The family chose to live in the SENI Mont' Kiara condominium for its Olympic-sized swimming pool and gym facilities. When there are no COVID-19 restrictions on use of the pool, you will find Cindy and her children in it every day. In fact, Cindy's children have inherited their mother's swimming talent. Her son is the fastest 10-year-old in Malaysia and is also a national champion in his age group. Daughter Kiara at 23 months in 2016 became Malaysia's youngest toddler to swim 199.35m, proudly making it into the Malaysian Book of Records.
As a swimming and fitness coach, Cindy describes herself as having a unique style because she spends hours researching what works for different body types and styles so that it is "science driven". The pandemic crisis hit aquatic sports hard because swimming pools had to remain closed. This put paid to many swimmers', including Cindy's, plans to compete in 2020. The training regime has to continue though and Cindy developed a rigorous dry land programme involving high-intensity one-hour online sessions. Not letting the grass grow under her feet, Cindy's online, swim specific workouts started on Day 2 of lockdown in March 2020 and they have continued everyday! According to Cindy, "General fitness training does not help with competitive swimming because the powers and strengths required are different. I have developed a unique training programme drawing on my extensive experience of competitive swimming and I want to share it with others who want a career in this sport. Swimming is all compound movements rather than isolated movements; understanding fluid mechanics and tempo, so there are a lot of explosive moves that have to be built in."
Incidentally it is important to mention that Cindy also shares her expertise with friends and residents at her condo, giving free swimming lessons since 2014. Cindy admits that they are an enthusiastic bunch and she feeds off their vibes.
Lockdown lesson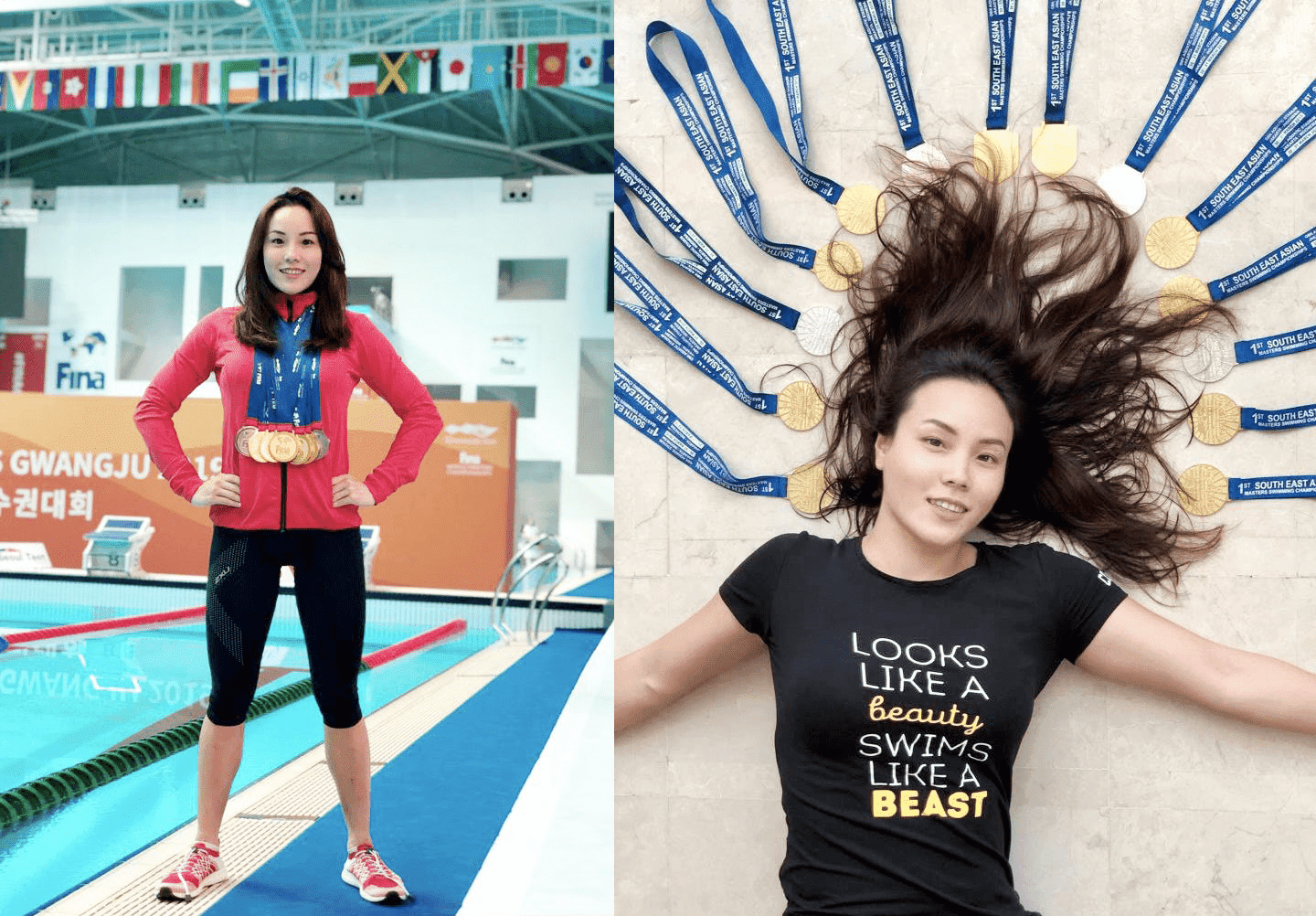 Cindy is a true Malaysian and loves her food but did not spend much time cooking until the country's 2 month lockdown forced the family to review this. Living on sandwiches was not a sustainable option so Cindy and her husband seized the opportunity to experiment with online recipes and graduated (Cindy's own words) from making sandwiches to creating "more fancy stuff" like crème brulee and tiramisu!
What's next?
Before the world was paralysed by the COVID-19 virus, Cindy wanted to break at least one world record and will continue training towards achieving this. She plans to defend her titles at the World Masters in 2022 to be held in Japan. Cindy says that pool swimming is one of the hardest sports in the world to make it to the top because the type of training and determination required is highly technical, and all to improve 0.1 second off your best time!
"0.2 of a second is the difference between first and tenth placing. I put a lot of effort into my training, working smart to avoid injuries, hence the research, because I don't have the luxury of time. I want to have an edge to my swimming because if I do what everyone else wants, I am only as good as everyone else!"
It doesn't look like Cindy will be hanging up her Speedos to dry any time soon and we look forward to more winning successes for her in the years to come. Three active children and a full coaching career will not get in Cindy's way to bringing home more medals – I for one will be cheering her on!
Lini Kazim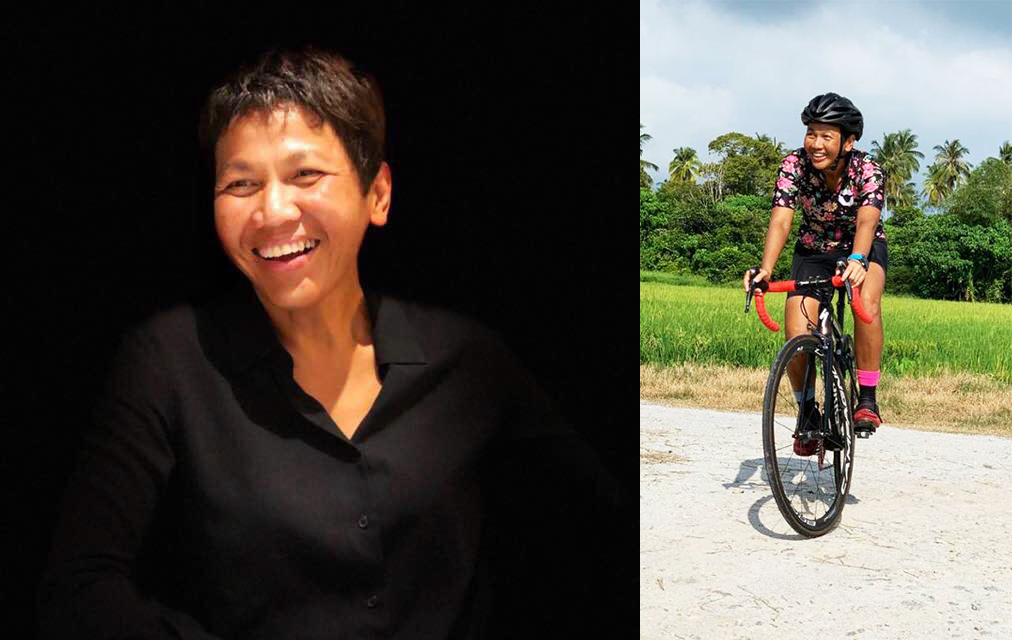 Lini Kazim is a sporting powerhouse who will be mortified with being described as such because modesty is at the top of her trait list. Lini is a triathlete who has led her country as National Coach for Triathlon Malaysia at the 2018 Commonwealth Games in Australia, at the Youth Olympics in Buenos Aires, Argentina in the same year; and Team Manager for the South East Asian Games, 2019 held in Manila, Philippines. She is currently a member of the National Sports Council
An early start
Born in Kota Bahru, Kelantan, Lini was already competitive from an early age, even turning meal times into a competition by seeing how much food could be consumed among the 4 siblings! Going to boarding school at 13 defined Lini because "it gave me my own identity and I was no longer Roza's sister." There, she excelled both academically and in sports, graduated in Law and achieved an MBA from UK universities; and returned to Malaysia to take on the corporate world as a Contract Specialist for a Canadian Consulting Company. Towards the end of her career, as Head of Global Contracts and Procurement with the Australian Consulting Firm, Lini travelled the world, living out of suitcases, but this did not stop her from competing, wherever she worked. Colleagues in Poland and South Africa, for example, would register Lini for races and at the weekends, she would compete in runs.
Choosing to be a triathlete… or did it choose me?

Serendipity led Lini to becoming a triathlete. Depressed with her recurring tennis injuries, the light bulb moment came when her surgeon suggested that although her tennis serves were restricted, her legs still worked! Then, the running started (Lini was then in her 30s) and immediately she set herself the goal of running a full marathon (42km) by the time she reached 42. Needless to say, the goal was met. A friend then suggested cross training, doing another sport using the same muscle group, and shortly after this, Lini was introduced to duathlons, then triathlons (completing her first one in 2012) and thereafter, she was hooked! Lini was titled the fastest Malaysian woman after her first Ironman in Langkawi in 2014. The 6-month Ironman training saw Lini swim 192 km, ride 7,000+ km and run 1,300 km!
After Langkawi, Lini became an accredited Triathlon coach and achieved an advanced diploma in nutrition.
Coaching and leading to success
Lini loves her coaching role because she gets to develop, inspire and nurture athletes to be the best they can. Aside from the technical skills of learning efficient or quality movements or improving on personal bests, a big challenge, especially with the children, is to hold their interest for what can be a period of many years. Becoming a triathlete is a long-term goal so imagine coaching an 8-year-old child who will most likely reach their peak at (typically) 27 years?
Injecting fun and variety to keep focused, interested and to have continued love for the sport is the biggest challenge, especially when the training gets tougher or when podium wins are less frequent. As Lini says, "My job is to keep lighting up the fire to remind them why they came in the first place." The teaching variety includes playing with a ball for developing co-ordination skills, running backwards and even climbing. For the elite athletes, they are already disciplined and don't need to be inspired. Preparation for them might typically be to concentrate on technique – "If the heart rate is too high, I will accompany the athlete on their training to see if they are using their energy efficiently."
At an elite level, you need to be prepared to give 15 – 16 hours a week to training. An important aspect to Lini's coaching portfolio is to avoid injury so for example, body positioning on the bike to avoid back trouble, cycling downhill safely or assessing running gait to avoid long-term injury are all must-dos.
Lini's leadership acumen stood out and was put to the test, in equal measure as national team coach and team manager. Both roles were demanding and rewarding, with a wide range of emotions from exasperation to exhilaration, and everything in between. The function of a coach is to enhance your athlete's skill level and on the surface, this task might seem quite straightforward. According to Lini, "The coach is everything to an athlete from mentor, role model to substitute parent. This is why the role comes with a big responsibility. For my athletes, I know everything about them, their character, their strengths and even their heart rate in the mornings!"
As team manager at the SEA Games, Lini's role was to look after the athletes and their coaches representing Malaysia, understand the rules and regulations governing the games and to advocate on the Malaysian team's behalf where necessary. Lini recalls this happening in Manila when she had to decide with the organizing committee on the best time for the Malaysian contingent to compete in the wake of an impending typhoon!
Coaching through the pandemic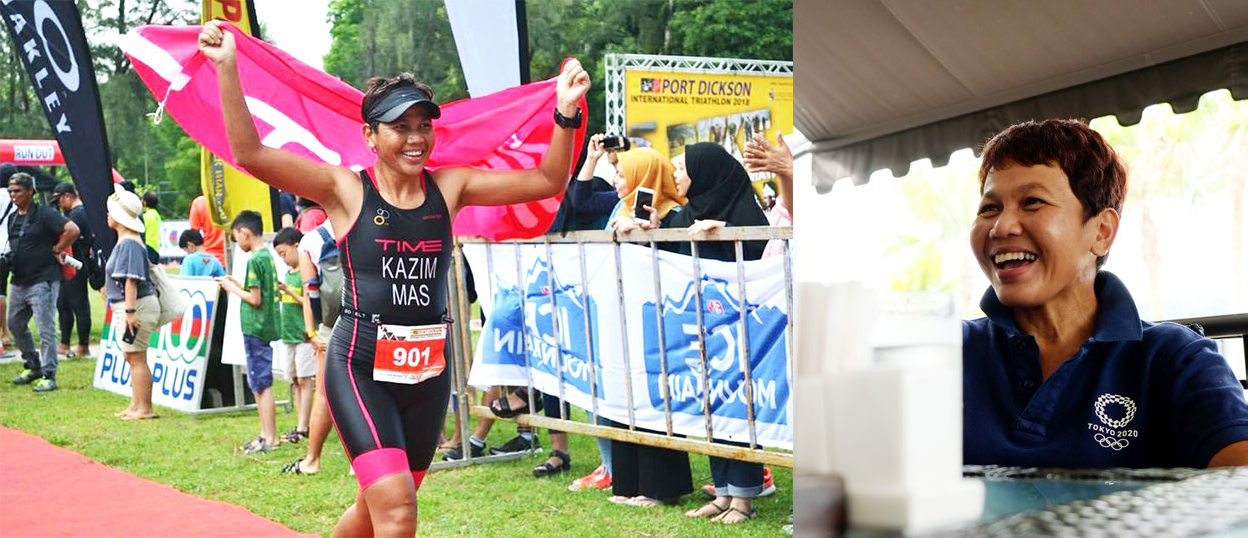 The COVID-19 pandemic inevitably disrupted Lini's personal training and coaching programme. The race cancellations did not deter Lini from continuing to inspire her charges (and herself). It just had to be done in a different way and there are still personal goals to be achieved – for example, run 10km in 45 minutes, using technology (i.e. tailor-made apps) to help with this during lockdown. The time was also used to talk team tactics, build on individual strengths and preparing for when the sporting calendar resumes, albeit in a post- COVID world. For instance, with "Team Time", an elite group of triathletes sponsored by Time.com, Lini works with them to strategize for race qualifications. She writes programmes for those who aspire to venture into triathlons or complete an Ironman race. However, Lini admits that online coaching has its limitations and can't replace physically observing an athlete's breathing, tone and mood, all of which affect peak performance.
Lifelong learning
Lini accepts that she still has more to learn and continues to work with her own mentor, Coach Ando Kenta who is also the national coach for Triathlon Macau. She credits Japanese born Coach Kenta for her continued development and for challenging her to work outside her comfort zone. Lifelong learning is something Lini embraces and is a recent convert to Toastmasters which she absolutely enjoys because, "It's like nothing I have done before and I value the constructive evaluation on my performance."
Hard work, hard work and more hard work!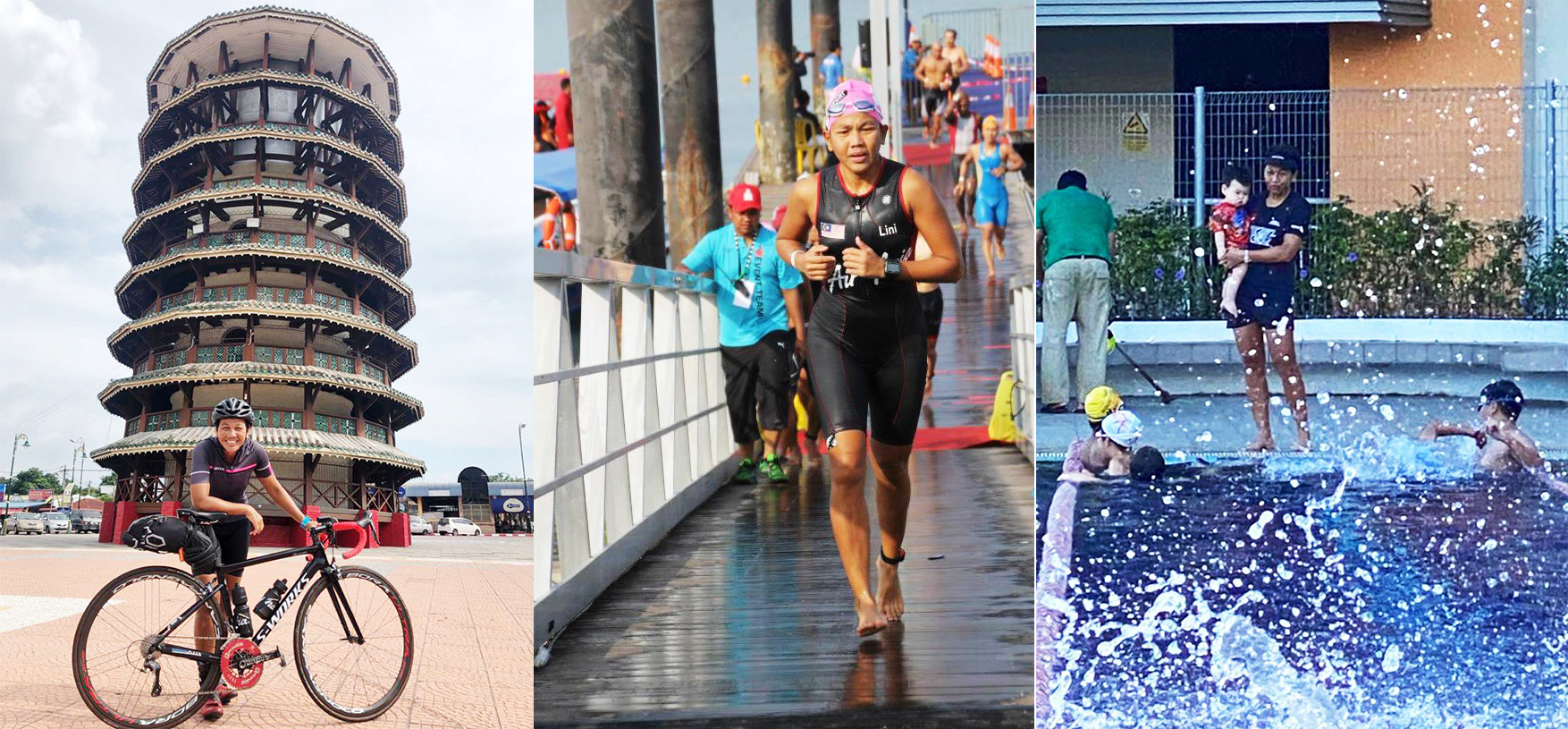 When asked for the secret of her success, Lini bluntly responds that there is no secret, just hard work. "There is only so much luck and opportunity we can rely on, but at the end of the day, it's sheer hard work and there really is no short cut." She even goes further to say, "Give 200% to everything you have committed to doing and do it to the best of your ability; and make sure to have fun at the same time. The two are not mutually exclusive and focusing on both can bring out your best. I get annoyed with excuses because we should never be too busy to do anything well!"
Lini 'walks the walk" because she herself juggled three sports, kept the family home, whilst still making time for training (15 – 20 hours a week) and racing. Lini credits her husband and daughter for her success, laughing as she recalls fondly that family vacations became 'racations'!
What's next?
Lini qualified for the World 70.3 Ironman Championship which was supposed to be held in Lake Taupo, New Zealand in 2020. Lini's goal is to improve on her personal best time at the same event rescheduled to 2022. Another of Lini's goals is to help Malaysia to have at least one triathlete at the 2028 Olympics.
Watch this space……….
Michele Low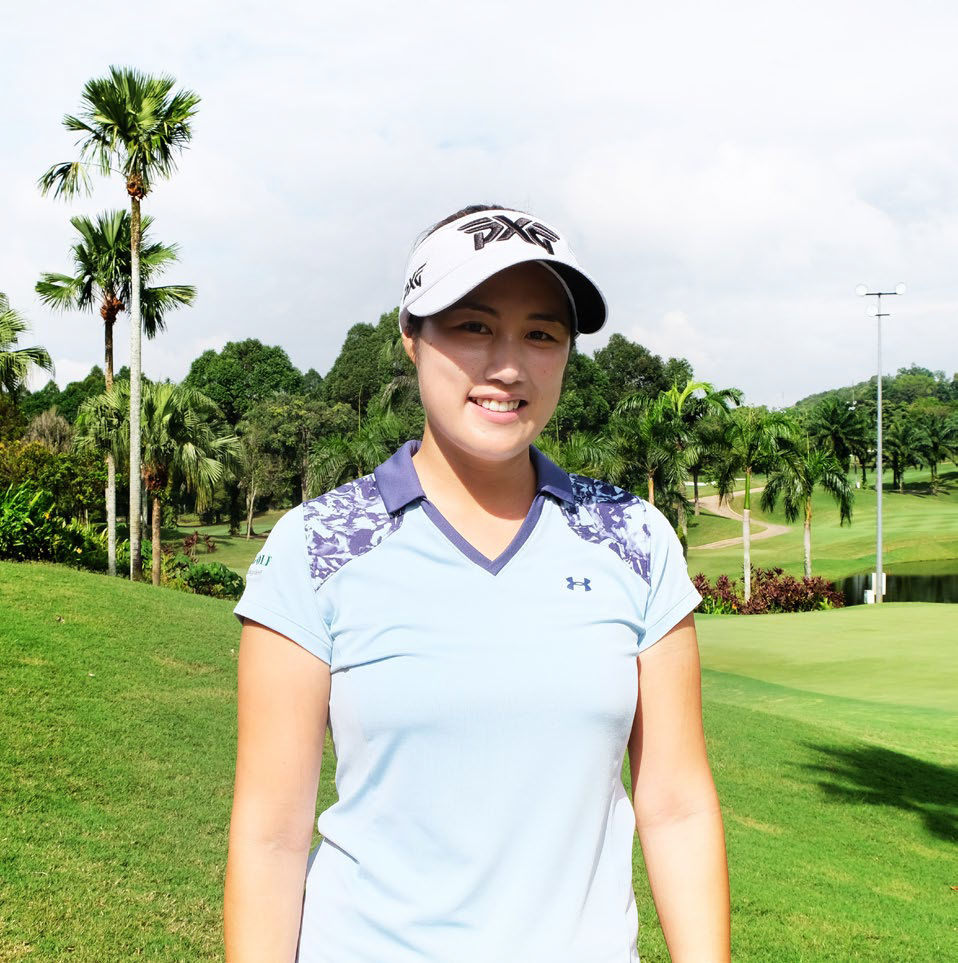 Simply knowing a lot about something doesn't make you a good teacher. Think back to the many school teachers who had lots of knowledge but could not inspire the students. Similarly, a coach knowing every golf technique is no good if they cannot communicate this information to the students, especially where the latter tend to be of every skill level, from the most enthusiastic beginner, the frustrated intermediate and to the most self-assured. Michele Low has what it takes to be a golf coach and judging from her busy diary, I suspect this is a unanimous view held by her students.
Finding Golf
As a young girl, swimming and netball were Michele's choice of sports which she did take to State level (i.e. Perak) for swimming. At the time, Michele felt that golf was not competitive enough and it took up far too much time! However, at the age of around 15 years, her mum encouraged her to give golf a try (her parents are mad keen golfers) and after only 1 year, Michele started competing in club events and winning – she remembers winning 11 out of 12 monthly medals and decided that perhaps golf was after all a competitive sport! There were also more juniors coming up the ranks at the Royal Perak Golf Club and support from some of the older girls made the whole experience enjoyable. Michele's golf pro at the time worked with her on technique and building confidence. Michele practiced hard (actually loving it) and quickly became addicted to the game.
A Whole Different Ball Game
It wasn't long before the next step was applying to the USA for college golf because America has a long history of combining education with sport. Michele got a place at Belmont Abbey College, North Carolina. Her 4 years at the American college were arduous and enjoyable in equal measure. Once Michele got to college, free time disappeared between practice, travel and academic demands. Learning everything in the English medium at first was a challenge having come from a Chinese medium school in Malaysia. It didn't stop Michele from gaining 2 degrees in Business Management and Sports Management, with a list of academic awards to her bow. Just to mention two awards – the Marty Thomas Award (from Belmont Abbey College) in 2011 for outstanding female athlete and named the Conference Carolinas Scholar Athlete 2011 for outstanding academic and athletic achievement.
You already had to be better than good at golf to get into college (regularly scoring below 72 for men and 76 for women is expected) because the whole 4 years, according to Michele was one big competition. The students had to qualify for places in the team whether playing other teams in the college or intercollegiate. Even practice schedules felt like competitions. The depth of competition provided by college matches and other amateur tournaments meant that Michele's game was constantly tested in the toughest amateur golfing environment.
On top of that, the strength and fitness programmes were arduous, not to mention the mental side of the game because our mind set is the biggest factor in our golf performance. Arnold Palmer told us long ago that the game is at least 80% mental. Why is it, with the same golf swing we are capable of shooting 90 one week and 100 the next?
Guiding Programme
Michele didn't need reminding why she was at college and it was the opportunity she never wanted to waste. Understanding what it takes to make the most of college golf led Michele and her China based friend to run a "Guiding Programme" preparing prospective students (typically 12 year old girls) for college golf. The programme covers areas like communication skills (especially speaking English), discipline to study hard and practice hard (attendance is usually 10% of the final grade), understanding the principles of being a team member in terms of golf performance and also outside the sport because students are living with their team mates slash competitors! The potential applicants have to understand that golf needs to be their No 1 sport and the only one to invest time and energy in. Michele says this preparation is crucial before making it to college golf so that prospective students can make the most of what the college has to offer when they get there – the wide range of academic courses, technique improvement and competitive opportunities for those who make teams.
Passionate about Coaching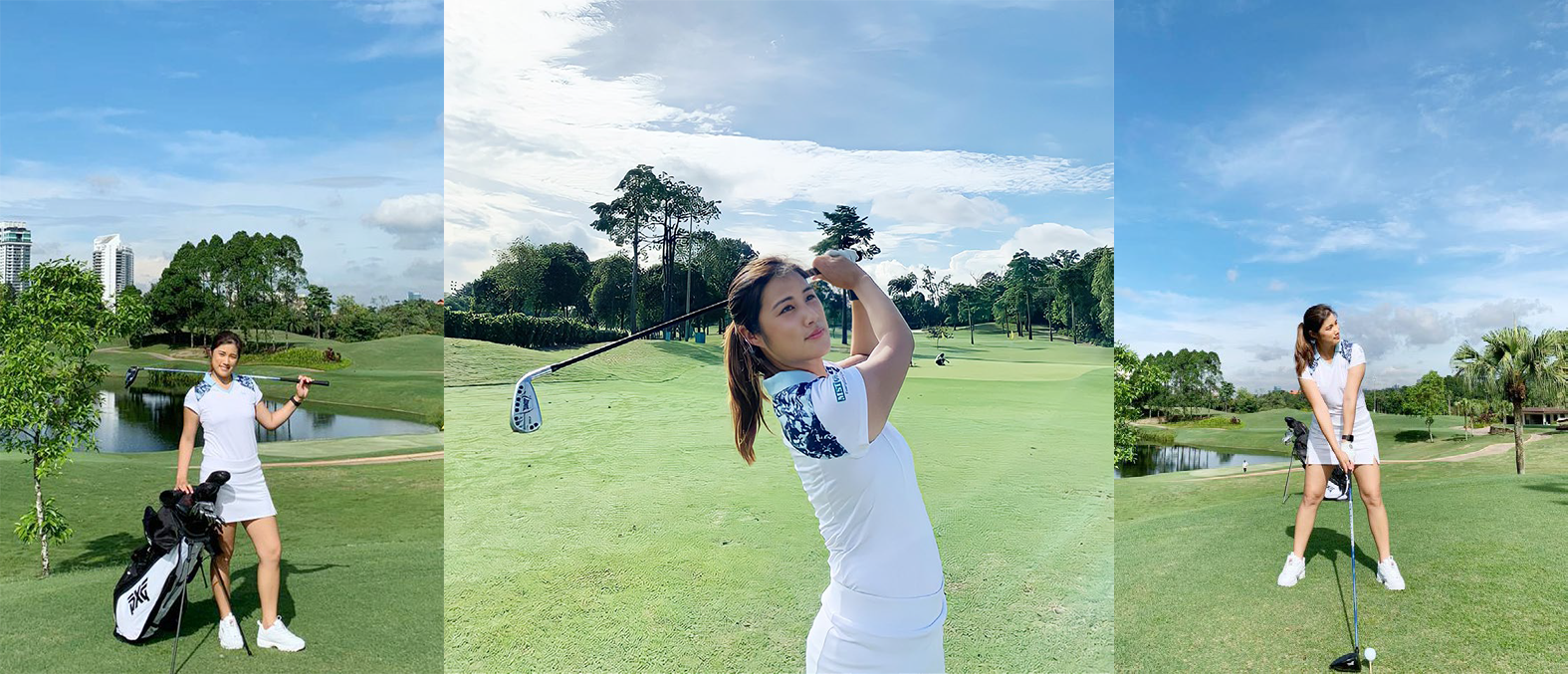 Michele loved competing, turning pro in 2013 playing on the Symetra Tour which is officially the qualifying tour of the LPGA Tour.
Michele played in the Symetra Tour for a year and then the China and Taiwan LPGA until 2017. The down side of competing is the constant travelling and living out of suitcases, not to mention the cost of doing so. It was when she met an Australian life coach, Gary Atkins that her direction of travel took a different turn.
Michele describes him as her inspiration. He taught her the power of positive thinking (back to the mental game again) which is a strong principle in her coaching technique today. According to Michele, "Negative thoughts enter the subconscious 7 times faster that positive ones so no matter what good comes out of a situation, we will focus on the failure. Tell yourself every day that something fantastic will happen to me today and see the difference!" After a short spell doing TV golf commentary and golf competitions, Michele decided to get into full-time coaching golf in 2017.
Today, her students are aged between 5 years to 75 years and the most rewarding thing for Michele is to see them improve and start to enjoy their golf again.
"Coaching is such fun because in one day, I meet such a range of personalities who all have one goal to be better golfers which I am determined to help them with. I always try to make sure that I get a break between lessons so that I can rest my mind and give 110% to each student. Speaking fluent Chinese is a benefit because there is a growing number of clients from China who are getting interested in golf and ask for either myself or Thomas." Incidentally, Michele's brother is also a golf coach.
One thing Michele enjoys as a coach is to find different techniques of helping students to improve their golf. Being a golf instructor may sound like an easy, fun job but it takes a special kind of person to fill this role successfully. Knowledge, skill and passion are the givens, but it's the supply of patience, in my opinion, that is the most important prerequisite to avoid feeling overwhelmed by stress and frustration, especially with enthusiastic but hopeless golfers such as yours truly!!
Michele goes on to say that she learns a lot from her students like different body movements and swings. As soon as they take their first swing, she quickly gains intel and already knows how to enhance their golfing style. Modestly, Michele determines that, "Golf is actually a simple game but it is our expectations that get in the way and therefore we try too hard. We often forget to play to our own ability and compare ourselves to others which can have disastrous effects!"
Sharing Golf Knowledge Through Technology
Michele doesn't hesitate to use technology to bring her skills to a wider golfing audience and this is never more relevant at this pandemic time, although serendipity played a big part in this journey. Well-known Golf Sidekick YouTuber liked Michele's teaching style and requested a playing lesson which he taped for his YouTube channel. Michele was surprised by the many hits the clip had with positive comments received on the post. Michele later created her own golf channel in Mandarin which once again received many hits and by popular demand, this video is now available in English. Michele has her own popular YouTube channel, Golf with Michele Low which she loves producing. Not resting on her laurels, Michele is now also working on a range of different online opportunities to bring golf to a wider audience like coaching with Q&A tips and personalized golf clinics.
Coaching for Many Years to Come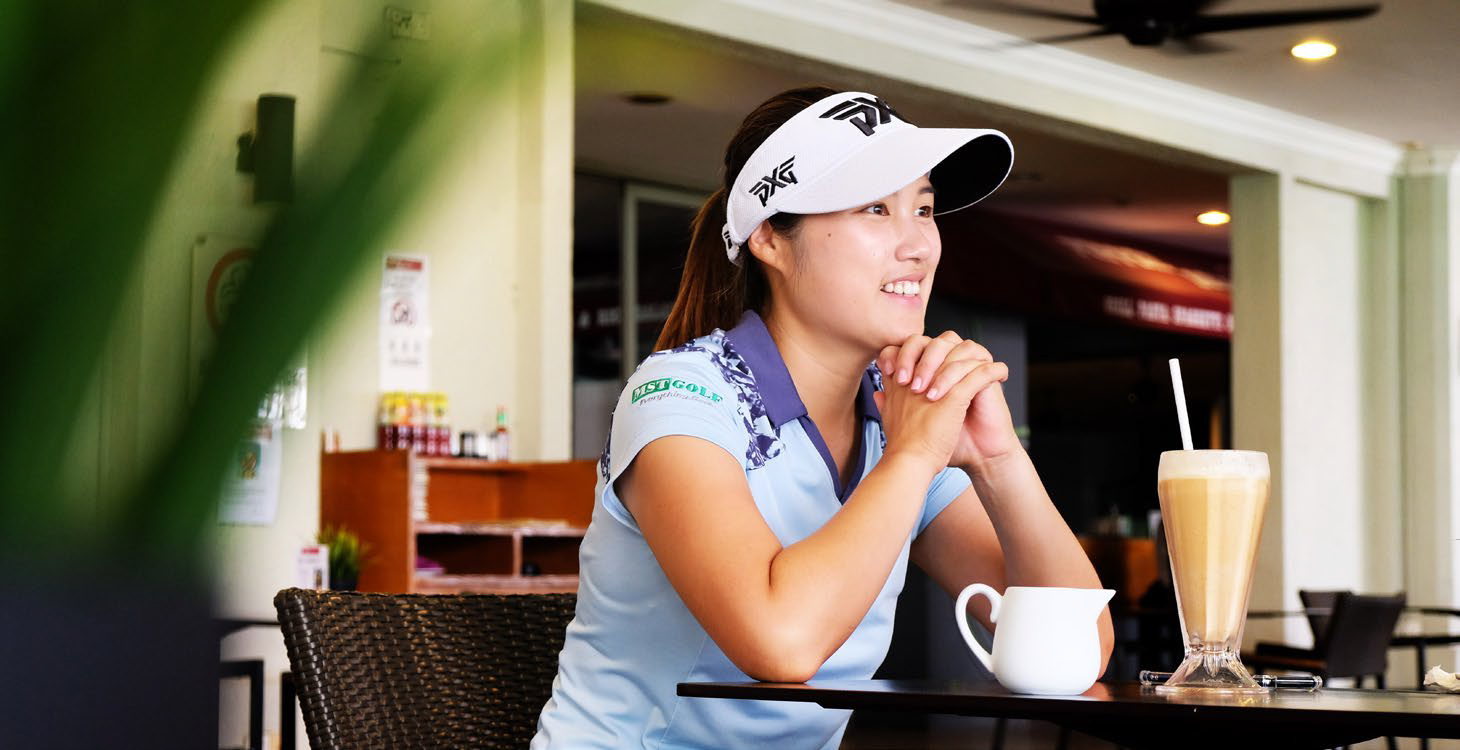 Michele has already proven that she can more than cope with the challenges being a golf coach brings in her short time in this role. She is willing to work hard to explore its limits for her students. It is clear that she eats, drinks and breathes golf so that her students can reap the benefits of endless par rounds!