26 Jul

Shaking Up the Status Quo!
Put simply, Jennifer Ong is an inspiration to the Asian hospitality industry, excelling in everything that she does. Jennifer is the creator of the successful Hospitality Asia (HAPA) brand which is today an industry benchmark. It all started in 1994, when together with her late husband, Jennifer started the HAPA Group, largely to meet a gap in the market to produce high quality hospitality, F&B, retail, travel and lifestyle publications for the industry, aimed primarily at owners and operators. Today, the HAPA group is a household name in the Asian hospitality industry and has expanded its portfolio to include digital TV media, awards, events management, training, and service excellence audits.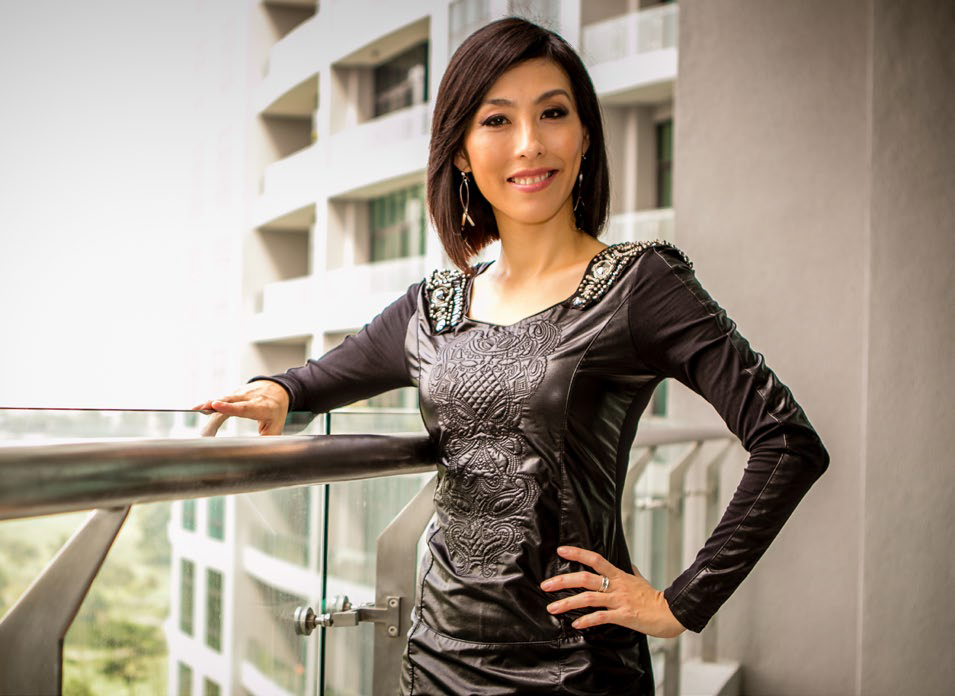 How it all began?
Jennifer and her late husband, Stevens Ernest, were the powerhouse duo behind a publishing company they started in 1994 with a modest RM20,000. They observed a big gap in the trade magazine market for hospitality and retail in Malaysia, and set out to help the industry buyers and sellers talk directly to each other through a series of publications including Hospitality Asia, Retail World Asia, Shopping World Asia and other lifestyle magazines. We should also give a nod to Jennifer's late father, whom at the time, was a publisher of children's books in Malaysia. He joined Jennifer and Ernest a year later as their Managing Editor. They received positive support from Singaporean clients, where Jennifer lived for 5 years, and built strong bonds with big brands and advertisers.
The plan was to create a media platform where hoteliers and retailers could create a dialogue with manufacturers, distributors and suppliers, with direct messaging and advertising, something that no one thought was important before then. This success led to the creation of more publications, so by 1999, they had 10 titles in their stable of magazines, covering the range of issues including fitness, motor & boats, technology, travel, beverage, and dining.
Their "Working Woman Asia" magazine, Jennifer describes as her proudest product because, inspired by her role model, Oprah Winfrey, the topics covered were all about empowering women across Asia without the "sex content" (Jennifer's words, not mine!). Looking at the gap in the consumer and trade magazine markets through Jennifer's unique prism of creating something that no one had considered before, proved profitable because they were all popular and attracted top brand advertisers like Nestle, Unilever, Nespresso, Moet Hennessy, Carlsberg, Villeroy & Boch, Procter & Gamble, Dutch Lady, Coca-Cola, Pepsi, Bulgari, Ferragamo, Chopard, Cartier and many more.
Tragedy struck on December 8th, 2000 when Ernest sadly passed away in his sleep leaving Jennifer with a company to run (with their 70 employees), alongside raising their, then 4 year old son. Only the day before, they were celebrating the anniversary of their fitness, travel and motor & boats magazines. This event marked a turning point for Jennifer and could even be described as life changing.
Determined not to give up on the publication business, Jennifer gave herself 3 months to prove that she could run the business on her own (despite much concerned advice to the contrary). Out of financial necessity, the publishing house moved to smaller premises, the staff team was downsized to a third and most painful of all, those magazines not generating enough profit were terminated. There was simply no choice!
New Beginnings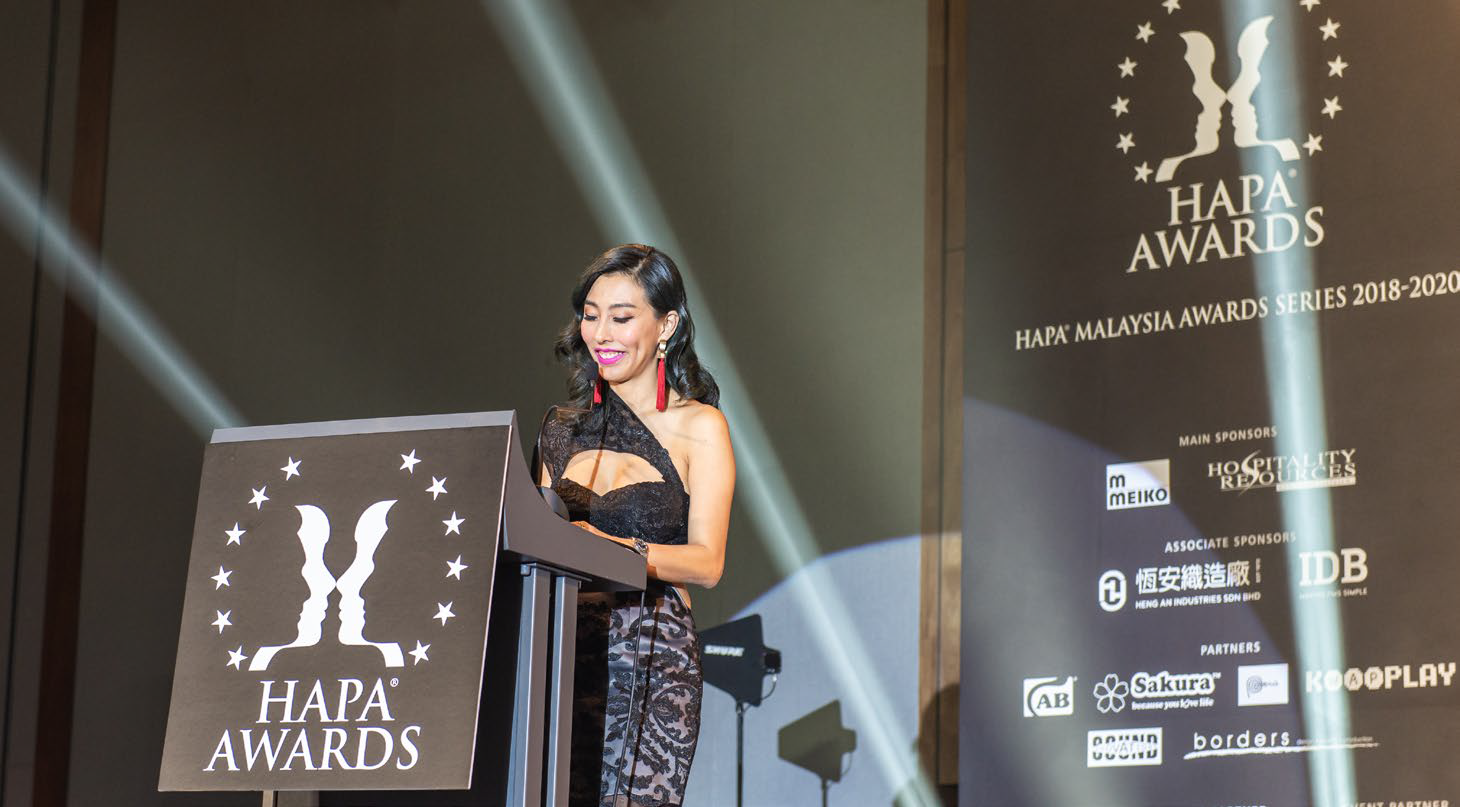 2002 saw the launch of the Hospitality Asia Platinum Awards (HAPA) in Singapore, and the year after, it was rolled out in Malaysia. In 2008, HAPA Awards went regional to include Indonesia and Thailand; and additionally Vietnam and the Philippines in 2011. Jennifer wanted to change the award blueprint of the time and created an event that not only hailed the great and the good of the hospitality world, but also those whom, one might argue, offered just as much – i.e. the housekeeping, concierge and front office staff, for instance. Jennifer calls them the "unsung heroes of the hospitality world".
With her eye for the unique and daring to break the mould, Jennifer successfully created a different kind of judging process – the concept of mystery judges offering their evaluation of actual experiences in real time. These industry experts, drawn from hospitality professionals across SE Asia provided their expertise pro bono. Jennifer put together a technical committee consisting of Presidents of Hospitality, F&B and Culinary Associations from the region who helped to set the audit criteria for all the award categories. There was no cost for hotels, resorts, restaurants, bars and clubs, spas and golf clubs to throw their hats into the ring.
Jennifer proudly says, "You cannot buy a HAPA award although you can buy tickets to the gala event and we would expect at least 2 representatives from the participating establishments to attend the Awards Ceremony as we do not allow no-shows regardless of which country the nominees are from." The HAPA Awards were described as the "Oscars of Hospitality" and set the benchmark for overall quality and service standards in Asian hospitality.
Alongside the HAPA Awards, Jennifer was also running 2 magazine titles, Hospitality Asia and Retail World Asia. As if she wasn't busy enough, Jennifer was determined to ensure that fundraising for charity was a key part of the Awards, the first to do so, and it became a central part of the Company's CSR programme. University Malaya Medical Centre's Paediatric Oncology Unit was one of their many beneficiaries where over RM500,000 was raised for this HAPA initiative. As well as granting the children their wishes taken from the Wish Tree created by HAPA, the Awards also fundraised for medical equipment, built a children's playground and even organised a Chemo Graduation Ball for the children who had completed their chemotherapy treatments. Making a fuss of the children through their journey with cancer is described by Jennifer as, "The most fulfilling achievement in my HAPA journey and a moment I will cherish forever".
Continuous learning is in her DNA, so it was no surprise when Jennifer was trained and certified as a Neuro-Linguistic Programming (NLP) Master Coach and Master Practitioner, Time Line Therapy® Master Practitioner and Hypnosis Master Practitioner; and today, this is an integral aspect to HAPA's training and coaching arm – HAPA Academy's Mindset and Customer Service Excellence training. Both are about raising the bar in the hospitality and service sectors "through attitude and mindset transformation towards excellence."
Developed in the 1970s, NLP is a psychological approach that helps improve our communication and influence skills, providing practical ways in which we can change the way we think and approach life. Jennifer is very passionate about NLP and is currently pursuing her NLP Master Trainer's certification from Sydney, and has also started her journey in personal coaching where she coaches women in parenting, personal development and transformation; as well as coaching teenagers, particularly those who are going through depression.
Poetry was the way to perform deep thought and self-expression; calligraphy was the channel of delivering the poem; and the painting represented by the perfect calligraphic brush strokes. Contemporary scholars say that in the middle of the eighth century when the Chinese poet, painter and calligrapher Zheng Qian presented a gift of his work to the emperor, the latter was delighted and inscribed Zheng Qian sanjue on it, meaning 'Zheng Qian's three perfections'.
Pause for Covid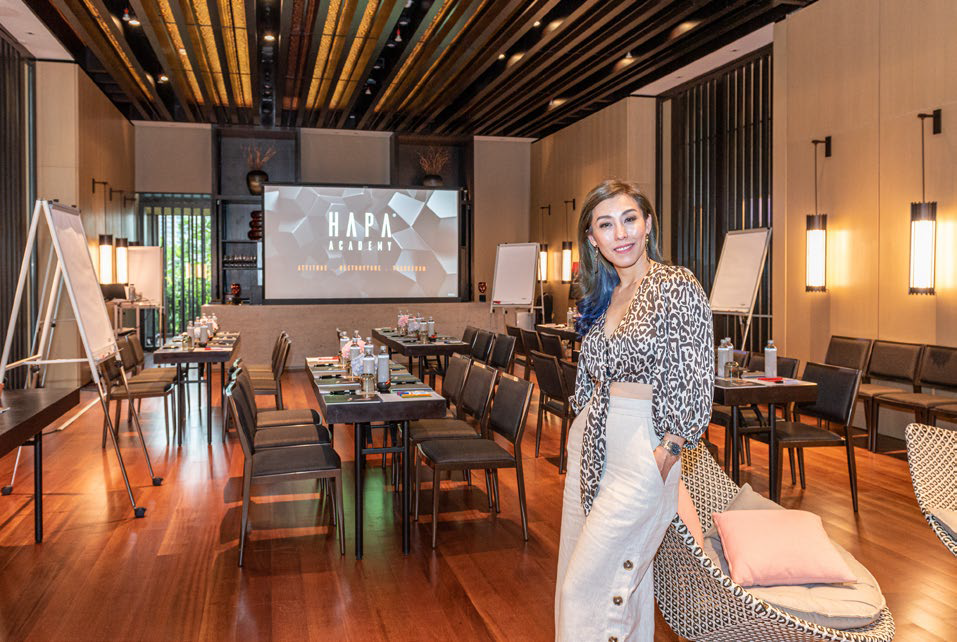 As with everything these days, the current pandemic interrupted the hosting of last year's HAPA Awards and possibly for 2021 too. In fact, the hospitality and tourism industry around the world has had the metaphorical rug pulled from under their feet and is yet to be revived, at least in Asia. According to Jennifer, the HAPA Awards are all about people meeting, celebrating, congratulating and networking with each other faceto-face so there was no appetite to host the event virtually. Jennifer is determined that the HAPA Awards will return when it is safe to do so.
Onwards and Upwards
Not letting the lockdown grass grow under her feet, Jennifer decided that she was not going to sit back and wait for the hospitality sector to open up to the world. In June 2020, she was determined to improve on her technology skills, learning about live video streaming and increasing her social media skills, acknowledging that a digital platform is the way to keep the HAPA brand relevant and sustainable. Once again, inspired by Oprah Winfrey's Talk Shows, HAPA TV was created on June 17, 2020. Some of the pioneer guests on the new digital platform included Lyn Siew, Owner of modern Chinese restaurant, Ruyi & Lyn, Loh Lik Peng, Founding Director of Unlisted Collection Singapore, Deepak Ohri, CEO of Lebua Hotels & Resorts Bangkok, James Won, Chef Patron of Enfin by James Won, Chef Darren Teoh, Owner of Dewakan, Kartik Kumar, Brand Director of Nadodi and Liang Foo Kuan, Managing Director of Big Onion Food Caterer, amongst others.
On September 8, 2020, "TASTED!", a food tasting series on HAPA TV was launched to showcase a new take on food critiquing of KL restaurants and reviewing the quality of home delivery food, a fast growing industry, again, necessitated by the Covid lockdown. As well as the food shows, HAPA organised a successful virtual hospitality and tourism summit in April this year; and also launched another digital TV channel, "JENN TV" focusing on lifestyle issues such as personal development, teenage-hood, parenting, etc. Aptly named, "Hold That Thought!" this is Jennifer's own talk show creation discussing life, its daily grind and the realities of living, especially at this time. JENN TV is a platform that invites individuals who have always wanted to produce their own show to work on it, thus giving them the autonomy to be creative and to have fun doing so.
"I refuse to let Covid rob me of the business I worked so hard to build up. I was determined to continue being creative and to find a silver lining, which the digital world has given me the opportunity to do."
More to come
Jennifer is determined to be a role model and exemplar for her 3 children. They see that she is a busy mum, lobbyist for the hospitality, F&B and tourism industry and constantly bringing her creations to fruition, working hard for the future and above all, staying focused and positive. The latter she credits to her NLP training.
"I really do have Covid to thank for quality time with my children, a new business direction which has also brought new energy and fulfilment to the work day. I have evolved myself and will do whatever it takes to look after my family."
Jennifer has forged an amazing career through personal crisis and weathered business downturns, which she has refused to let define her. Over 27 years later (a huge success in itself), the HAPA brand continues to dominate the Asian hospitality scene. I feel she is only scratching the surface because there is definitely more to come – Jennifer has the ability to inspire, a talent for shaking up the status quo and the clout to change the conversation.