21 Oct

Signature Market – Appetite for Success!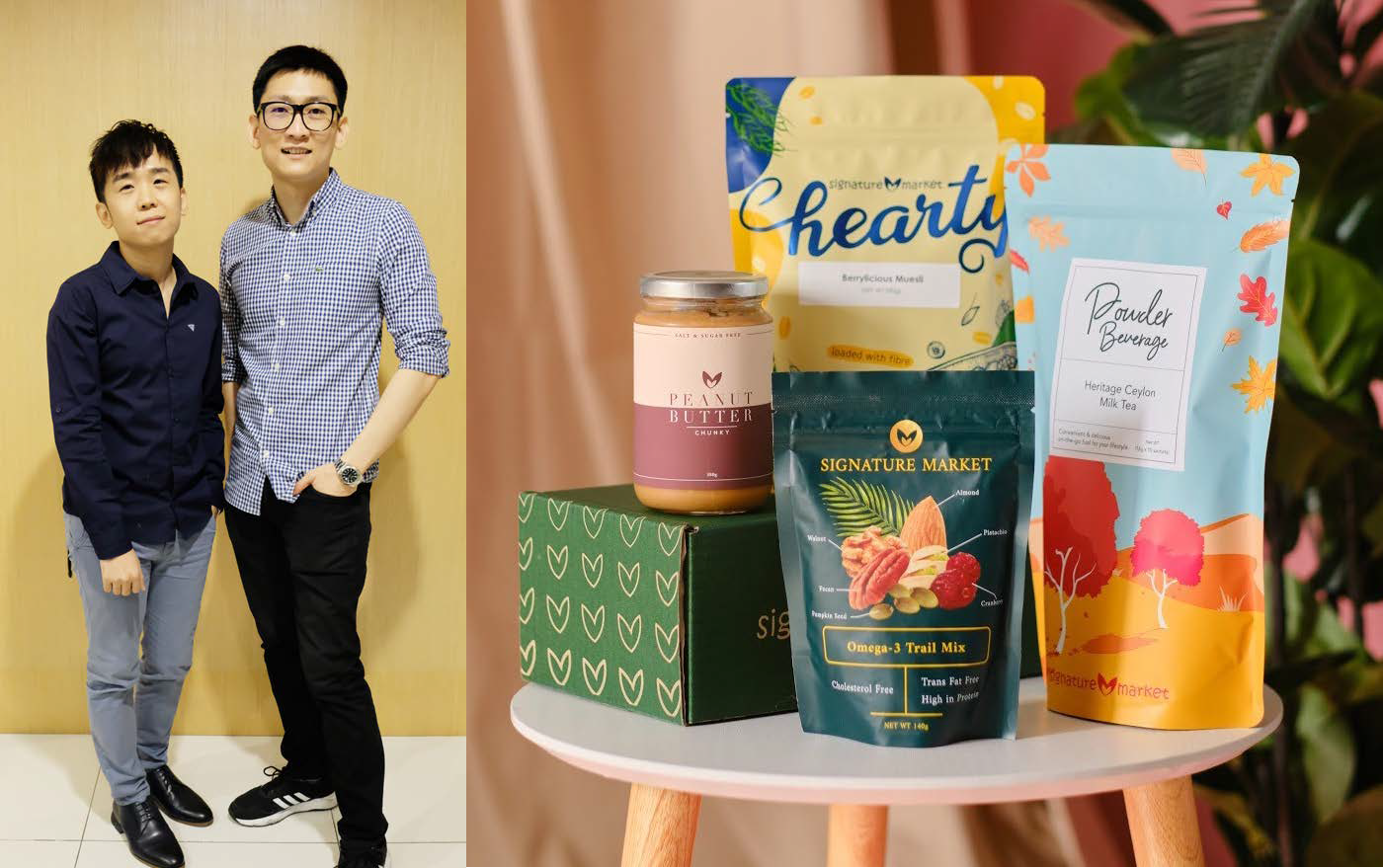 When thinking of entrepreneurs with foresight, you need not look much beyond Edwin Wang and John Cheng, the brains behind Signature Market, the thriving internet-based healthy snack and organic product business. This online business sells quality, affordable products directly to the customer, often at 20% to 50% below the retail price; and they are able to do this because they have cut out the "middle-man" distribution costs. Today Signature Market has a 300,000 strong customer base.
Edwin and John met each other in 2008 as housemates, both with IT backgrounds. John had then also started a blog on shopping and value buying, especially for high-end branded clothing and accessories. Fast forward to today, Signature Market's growth and revenue has gone from RM13mil in 2018 to RM23mil in 2019. Edwin and John built up Signature Market from scratch to today's success story, selling in both Malaysia and Thailand. From a business that started out with only 2 people six years ago, they now have a workforce of 100 people.
Making e-commerce work
Signature Market has ridden the online shopping wave since starting out 6 years ago. The current global pandemic has turned the tables on how we do our shopping, bringing e-commerce retailing into the spotlight and frankly, has quickened the shift in consumers' shopping habits. The COVID-19 movement restrictions drove us towards online shopping and digital payments as being part of the "new normal". The pandemic also led people to think more about healthy eating. Signature Market was therefore well placed to seize on this shift in consumers' shopping habits and it was no wonder that the company was able to exceed their projected 2020 sales target. They are currently working hard to get their Halal certificate which they hope to achieve by the end of 2020 and this will be a real feather in their cap.
All about quality!
It won't be a surprise to Signature Market aficionados that they don't compromise on the use of natural ingredients, free from additives in the products they market, nor are they in the mass production snack market. Their suppliers are largely SMEs, many of whom started in food bazaars or farmers' markets, producing small batches of food for freshness. Signature Market and their suppliers deliver to order or "bake to deliver" as John describes it. John and Edwin are always confident that their products speak for themselves with best sellers ranging from healthy nut mixes, dried fruits to chunky peanut butter.
Both partners are sticklers for only selling quality products and John makes it his business to try all the food products before unleashing it to consumers who are of course, the ultimate judges. He travels around Malaysia meeting suppliers, tasting their wares and checking out their production methods before they are accepted to the Signature Market e-commerce platform. They do the leg work to choose the best for their customers and selling online enables Signature Market to offer so much choice. Edwin brings his business and fundraising talent to the duo, setting the vision for the whole company. Given its upward trajectory since business started in 2014, he is clearly doing something right!
Supplier with a story to tell

John and Edwin have deep respect to their suppliers saying that each merchant has their own story to tell behind their creations. For instance, they have merchants who have spent years perfecting their sugar-free products because they themselves are not able to take sugar for health reasons. So, Signature Market does the distribution for their merchants, presenting customers with a plethora of healthy tastes and products without compromising on quality and freshness.
Feedback welcome
Signature Market encourages and values receiving feedback from customers. With 8 employees (most of who are either nutritionists or have a food science background), dedicated to this role, they are definitely serious about hearing from the public. The Company regularly analyses customer ratings to tweak and develop new products and product combinations; and to understand their customers' preferences. It also helps them decide on unpopular products which can be quickly dropped. The data is also used for their distribution strategies and to encourage customers to try different products; and move out of their comfort zones!
Continuing to serve
It is not all plain sailing. Signature Market works hard to ensure their website is fresh looking with weekly value buys and marketing limited edition snacks. To Edwin and John, it is all about affordability, accessibility, trust and safety. Convenience, speed and personalizing health snack deliveries to suit customers' preferences are the secrets of their success. Even though the business has grown under their leadership, Edwin and John refuse to rest on their laurels, they want to continue to tailor new products for local markets and are still be curious about what else is out there, in order to make their online business ever better.
www.signaturemarket.co
Tel: 03 2386 6020