05 May

Taking The Road Less Travelled
The phrase "road less travelled" has taken on a metaphorical meaning which is about daring to think and do things differently, i.e. carving your own path. Stephanie (Steph) Durant – medical doctor, professional dive instructor and English language teacher – has done exactly that because her sense of adventure means that the road less travelled offers more opportunity for learning and growth. This metaphorical road has not ended for Steph yet because there are more powerful and meaningful experiences ahead. More of that later but let's rewind the story that has led to this path!

Born in Kuala Lumpur (KL) to a Liverpudlian father and mother from Sarawak (in East Malaysia), Steph describes herself as Malaysian to the core. Following secondary school, she studied Medicine at Nottingham University, England. After completing her Senior House Officer-ship in psychiatric medicine, Steph undertook a few locum roles in England but felt that more awaited her beyond the world of medicine so she decided to retrain, achieving a Diploma in Marine Biology for a future role in conservation work. That was the intention!
The universe had other plans for Steph. Her maternal grandmother fell seriously ill in 2016, which was the turning point in Steph's life. She returned to Miri, Sarawak to care for her grandmother and describes it as, "the best decision I ever made". Steph learnt to speak Iban so that they could communicate in those precious few months together and during her stay in Miri, she also furthered her scuba diving abilities achieving professional scuba instructor qualifications.
Diving could not be further from the world of medicine. Steph regarded the weightlessness and calmness of being several meters under water as "the most natural thing in the world to do" because everything feels effortless, although scuba diving is far from straight forward. It is actually classified as an extreme sport for a host of reasons, not least because hypothermia, getting lost, low visibility, air loss and decompression illness are just some of the most common threats to divers, not to mention the piranhas, sharks or jelly fish around the diver! You can tell this is written by a paranoid, never likely to be, non-diver!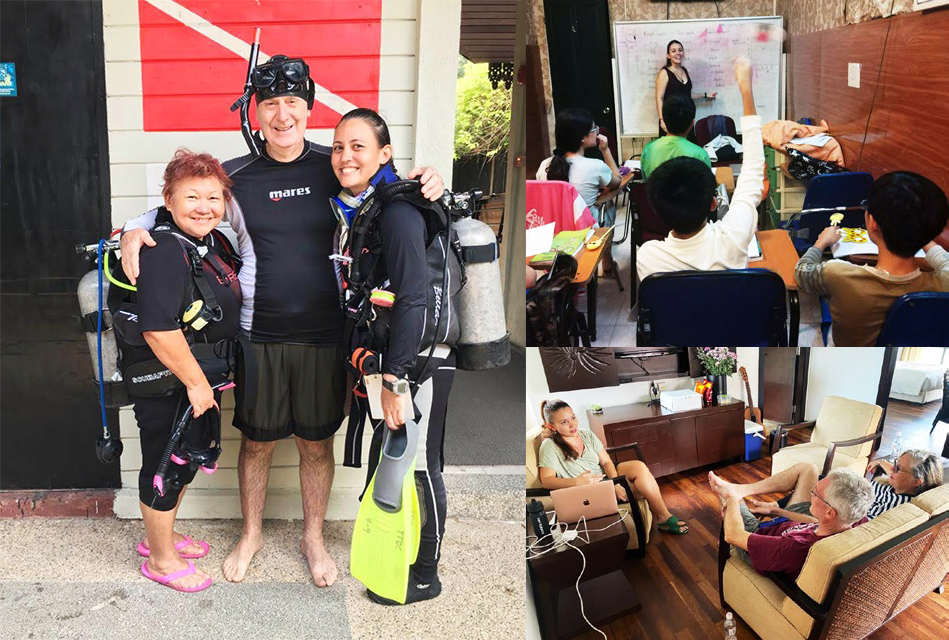 Steph admits that her role as a dive instructor was getting her nearer to the source of what she wanted to do. "I had no idea that I would enjoy teaching." Thereafter, it was a brief spell in a remote part of the South Island of New Zealand, as Senior Assistant at an eco-lodge. The job included tour guiding which Steph enjoyed most because it involved sharing knowledge and watching people benefit from this. After a short stint in Hanoi teaching English, it was back to Malaysia as a dive instructor, latterly at the Bigfin Dive Resort in Sabah, a small private resort, until the COVID-19 pandemic hit the world which meant returning to KL in May 2020.
To keep occupied during this time, Steph signed up onto an English teaching platform which she enjoys because she has met people from all over the world whom she finds it a privilege to teach. By the way, Steph also speaks and teaches fluent Bahasa Malaysia to expats.
Once students learnt of her medical background, she quickly began to develop a niche group of students from the healthcare profession from all over the globe who wanted to improve their English to communicate with their patients and also helping many of them prepare for their medical exams. This is because, more than anyone, Steph understands that good communication is the key domain of medical practice whether it is history taking, handling conflict, dealing with complaints, writing discharge summaries or breaking bad news.
Having first hand practice in all these areas and being a citizen of both the eastern and western cultures, gives Steph the edge to helping students whose first language is not English.
"Medical schools can teach medicine, language schools can teach English, but very few can do both! I am convinced that the right communication support for healthcare professionals will help them meet patient expectations and ultimately improve health outcomes. I want to channel my medical experience in this field."
Learning English for specific purposes is a growing trend and it is no different for medics who need to use the language for their future professional use. I say English because worldwide, it is accepted this is the basic language of communication and using her medical background, Steph has the context, content and vocabulary to base her teaching on, thus preparing students for active use of English after graduating. In other words, she can base her teaching on specific real situations on how to use the language, like taking patient history or delivering difficult news, because she has first-hand experience of this already.
I know we will be hearing more from Steph on this as she carves a path to sharing her knowledge, skills and expertise. Leaving the last word to Steph, "I had tremendous clarity that I wanted something different, but I didn't know what it was until the opportunity to teach allowed me to continue on my own path which I plan to be the architect of. I just know taking the risk not to practice medicine but using my medical knowledge to help others, in a different way, is the right step for me."