04 May

The Timeless Art of Calligraphy
Calligraphy is said to be the art of beautiful handwriting and according to the Encyclopedia Britannica, the word is a union of two Greek words – "Kallos" which means beauty and "graphein" which means to write. Beautiful characters, lettering and symbols are formed by hand and there is no doubt that calligraphers are specialist artists. The development of calligraphy as an art form is prevalent in Islamic, Chinese, Japanese and European cultures. Before the age of typewriters and computers, the artistic skills of a calligrapher would be heavily relied on to draft formal papers or contracts, or any meaningful texts like books or poems. We are honoured in this issue to feature two award-winning Malaysian artists who use calligraphy as forms of expression and are passionate about this ancient art – Raja Azhar Idris and Tee Ying Jie.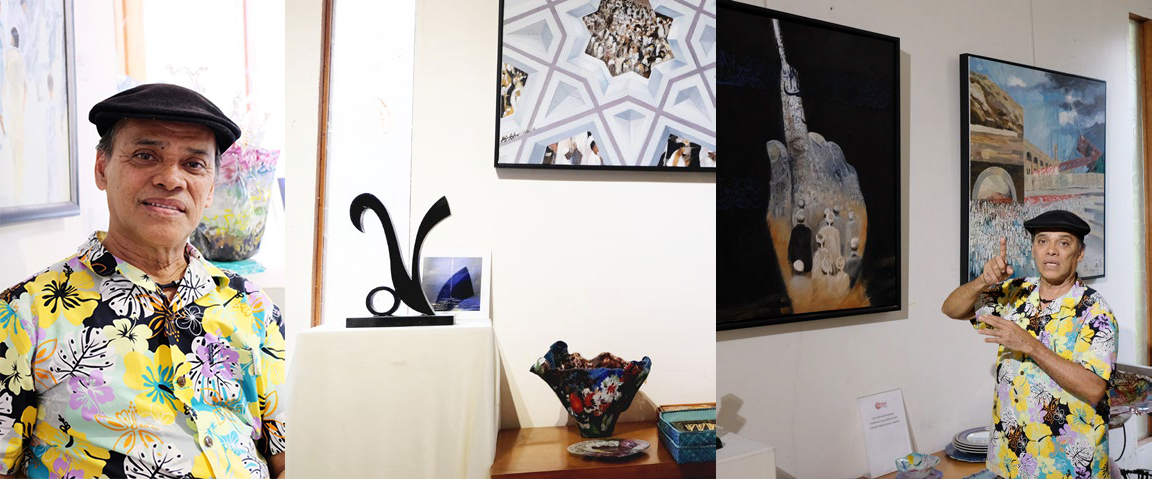 Raja Azhar Idris
Award-winning artist, Raja builds Arabic calligraphy into his works, much of it subtle but he also has created beautiful sculptures taking letters from the Koran, as they are written. Well regarded for his Arabic calligraphy, the Malaysian Islamic Economic Development Foundation (YAPIEM) have commissioned him to design the name "Allah" in 99 different script forms, to appear on the corresponding number of gold pieces. These inevitable collectors' items will be available soon which Raja describes as perfect timing because he regards 2021 as a hopeful year, after a pandemic ravaged 2020!
Raja sees endless creativity and versatility in calligraphy work, producing beautiful sculptures and ornamental forms; as well as having Islamic inscriptions in his artwork of the Ka'bah (the sacred shrine located in the centre of the Great Mosque in Mecca), for instance, inspired from his pilgrimages to Mecca.
To describe Raja as multi-talented does not do him justice and having spent an afternoon among the eclectic artwork in his home and studio, I got to appreciate just how accomplished he is. The walls and ceilings of Raja's home are surrounded with his sculptures, wood carvings, glass art and oil paintings; finished off with beautiful self-designed mosaic tile work on the floors. There definitely seemed to be harmony between the inspiration space (i.e. studio) and the living space; best of all it was wonderful to get a behind the scene peek at how Raja organizes his creative space and to catch a glimpse of unfinished work. He shares that most of his art is created at night and the daytime is spent setting up the studio because, "I don't want to waste my inspiration and ideas." Raja describes his art as "impressionism with movement".
Born in Beruas, Perak into a midsized family of 5, Raja has art in his DNA. His dad was a wood carver (whom he started helping at aged 8) and his mum made ornate table cloths for sale. Raja's younger brother is a shoe designer and sister is a film producer. Incidentally, he has an acting role in her next production due out this year. Raja himself had his own film production company, Silver Screen, and produced 13 episodes of Masjid Nak Roboh for Radio Television Malaysia (RTM). Raja was actually expected to take over his father's successful Kichap (soy sauce) factory, which he worked in for a year but just could not settle in this role.

Art is his first and last love – starting off with drawing landscapes on pieces of wood selling for RM3 each and then creating wood bark pendants which sold for 80 cents. Then in 1972, Raja decided to bring his art to Kuala Lumpur, helped by the truck driver of their soy sauce business who looked out for him. Raja thrived on hard work, selling his art every night for 3 years at the central KL roadsides and eventually he leased a small shop near the Coloseum Theatre on Jalan Tuanku Abdul Rahman, KL. The work involved long hours which Raja never minded because he says that his hobby was also his job.
Everything Raja turns his hand to is about pushing the envelope. He declares, "I like to step out of my comfort zone because it enables me to be more creative. The alternative is to stagnate. In any case, I trust and believe in myself and I never think of failure!" This was said with the utmost sincerity, so whether it is producing a TV programme, turning his hand to glass art (one of the first Malaysian artists to do so) or producing calligraphic sculptures, success was sure to follow. Incidentally, Raja can also add oil, wood and metal as his mediums of art.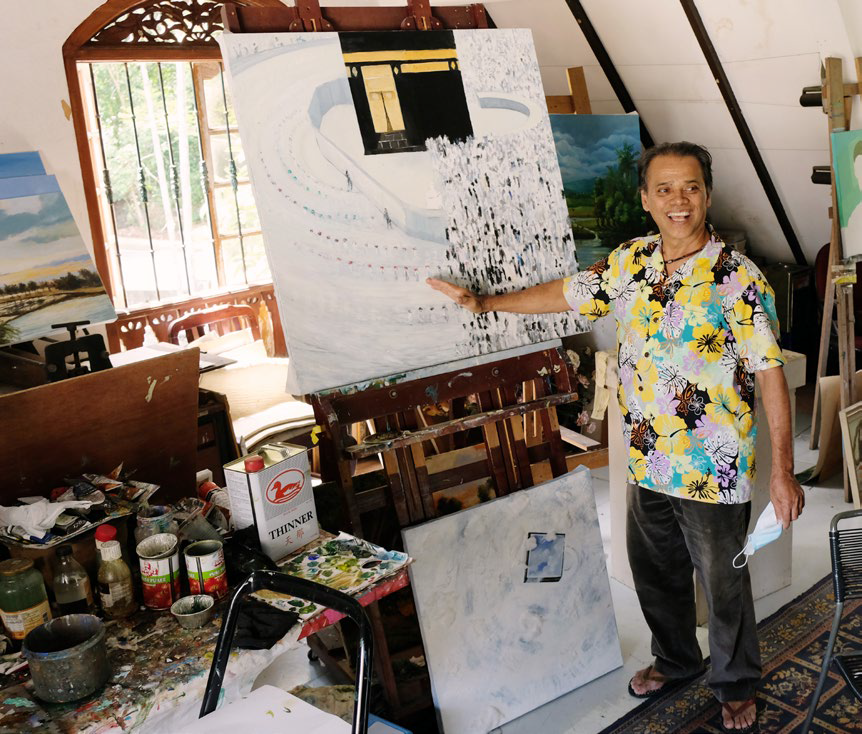 The talent was already evident and Raja was making a good living from his art, but he wanted to hold a professional art degree which led him to the Victorian College of the Arts (VCA) in Melbourne where he graduated with a degree in Fine Art. He lived in Melbourne for almost 20 years. Whilst there, he achieved several awards for his art – the Melbourne Lord Mayor's Prize, and was voted the Artist of the Year by the Victorian Artists Society in 1981; the Miniature Gippland Prize in 1982 and the Rotary Club of St Kilda Art Prize in 1983; and the VCA's Elizabeth Murdoch travelling fellowship in 1985. In 1989, he was awarded the Greyhound Art Prize. Raja should also add ballet to his artistic repertoire because he danced with the Australian Contemporary Dance Theatre for 5 years, alongside the award winning Malaysian choreographer and classical ballet dancer, Datuk Ramli Bin Ibrahim.
In 2012 and again in 2014, Raja did the Umrah (Islamic pilgrimage to Mecca). This is where his interest and love for Islamic art began to flourish, painting the beauty around him and everything that he observed from the prayer rituals to fellow pilgrims on their spiritual journey. Here, Raja began incorporating Arabic calligraphy into his art, taking the lettering and turning it into an art form.
Raja enjoys the artistic value of this language because he sees beauty in the calligraphic patterns, an ancient script which was once the domain of Arabic scholars dating back to the first century with the reveal of Islam.
Arabic calligraphy will undoubtedly feature in Raja's future artistic adventures but for this year, he would also like to revisit paintings he stopped doing some 40 years ago. The current pandemic has reminded him "how beautiful the world is" and the many lockdowns over the last year forced him to remain still to appreciate the beauty of his surroundings, so he will be resurrecting his landscapes in a new series of artwork. I foresee another success story and look forward to receiving my invitation to the exhibition!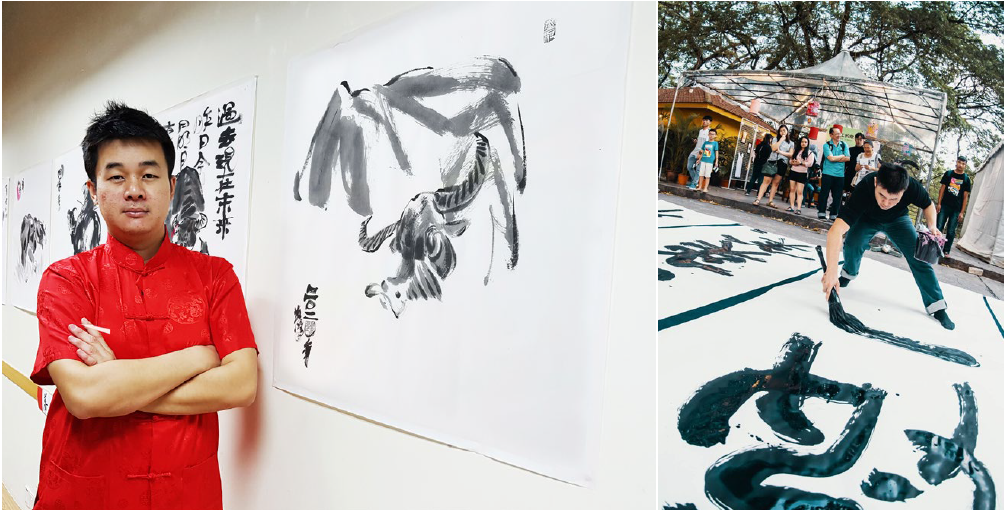 Tee Ying Jie
Born in Klang, Malaysia some 32 years ago, Ying Jie is currently an Art & Design lecturer at Inti International College, Subang as well as a part-time Chinese calligraphy teacher. As an only child to hardworking parents, Ying Jie's mother was concerned that he would end up a loner without siblings to spend time with. So, since the age of 3, Ying Jie attended drawing classes which developed his interest in this art. After only a month, he took part in his first local Colouring Contest and won second prize. This win was the start of an artistic creative life that piqued into a passion for Chinese calligraphy, which according to London's Victoria & Albert Museum, is the highest form of art in China that "supported, recorded and glorified 5,000 years of Chinese civilization."
The Art of Chinese Calligraphy
Ying Jie says that the simplest way to introduce Chinese calligraphy is to describe it as "a way to write characters expressed through how to perfectly arrange the dots and strokes through how one holds and uses the brush. To undertake this art, calligraphers are required to have their own unique temperament and spirit." Perhaps this is what Confucian scholar Yang Xiong (53BC – 18 AD) meant when he wrote that calligraphy "is a means of self expression, revealing a person's nature or character." In ancient China, scholars and court officials were schooled in the arts of poetry, calligraphy and painting, referred to as the Three Perfections.
Poetry was the way to perform deep thought and self-expression; calligraphy was the channel of delivering the poem; and the painting represented by the perfect calligraphic brush strokes. Contemporary scholars say that in the middle of the eighth century when the Chinese poet, painter and calligrapher Zheng Qian presented a gift of his work to the emperor, the latter was delighted and inscribed Zheng Qian sanjue on it, meaning 'Zheng Qian's three perfections'.
A Lifelong Journey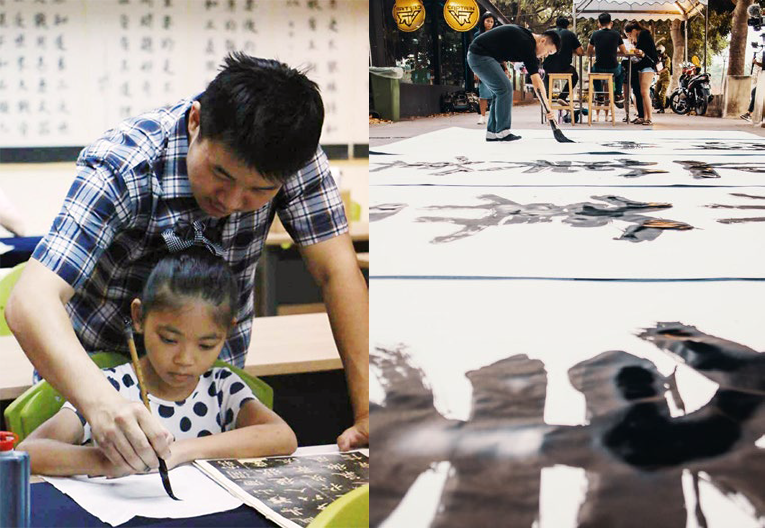 It is believed that practicing Chinese calligraphy offers long life, but for Ying Jie, his own journey into calligraphy was driven by its sheer beauty. He practises Chinese calligraphy as part of his daily routine in order to perfect the art.
Getting into Chinese calligraphy Ying Jie describes was an "accidental destiny". He was lucky enough to win a 3-month calligraphy course at a local art competition when he was 8 years old.
By the time he was 17, Ying Jie was an assistant Chinese calligraphy teacher at a Buddhist centre. He is too modest to describe how his calligraphic work differs from others because he feels that he is still on a journey of learning but admits that he enjoys combining elements of Western art into his Chinese calligraphy which is not a typical style. Ying Jie loves the fact that Chinese calligraphy is still an important art form that continues to have currency and he doesn't think it will ever diminish in importance, whether it is decorations adorning walls, or inscriptions on packaging or on cards.
Ying Jie appreciates Chinese calligraphy wherever it might appear and enjoys teaching it too, with students ranging from 6 years to 90 years. This is why Ying Jie is no stranger to awards which have included winning first prize at the Yang Zhen Qin National Cup Calligraphy Competition in 2018. More recently, Ying Jie received 4 awards from an online competition organised by Superior Culture, Hong Kong (professional competition organisers for artistic cross-cultural development) in 4 categories, First for the Single- Character Huaichun category; Gold award for the "Fu" Chinese Huaichun category and a congratulatory message for both the Huaichun and Spring Couplet categories.
What's next?

Ying Jie hosts twice yearly exhibitions, the next one to be held in May, 2021 (also held to celebrate his birthday). This year's exhibition titled, "Exploration of the Brushes" will combine both the Chinese character and English alphabet, showing highly original and creative work with simple, elegant brush strokes revealing layers of meaning and perception. Ying Jie describes this as experimentation artwork. I for one am looking forward to it.